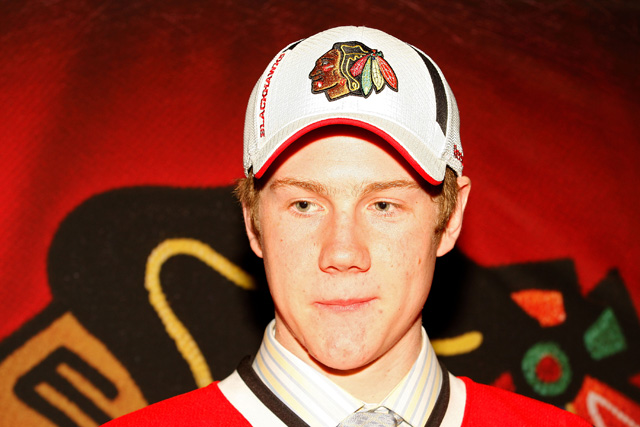 While some have been quick to criticize the organization in their rushing of players to the pro-level -- Brandon Pirri and Nick Leddy are two examples -- the case of defenseman Dylan Olsen is one where the Hawks pretty much had their hands tied.
First the particulars. Olsen was the Hawks first round pick in 2009, at #28. He's a big boy, which the Hawks don't have a lot of on the blue line. He's 6-3, 225 pounds and plays with a meanstreak, which has has been entering Hawks fans dreams. Currently the Hawks only have one of those, and that's Brent Seabrook. Olsen attended the University of Minnesota-Duluth, which sounds like an awfully cold place to spend one's time. His freshman year was so-so, he racked up 11 points with one goal and 49 penalty minutes.
But things were looking up this season. In UMD's first 17 games this year, Olsen had 13 points from the backend, which is quite the pace. He was quarterbacking the power play, and ragdolling opposing forwards in a manner that a behemoth d-man should. UMD was looking to be one of the better college teams around.
But there was one small problem. Apparently, Olsen's a muttonhead. Or at least academically he is. He became academically ineligible when second semester rolled around, and the Hawks were looking at having a prime prospect not playing any hockey for the winter and spring of 2011. So they signed him to play in Rockford, even though the Hogs's blue line was already overstuffed.
And things did not go well there. Olsen played in 42 games, but only amassed four points and was a -18. Worse, he was only playing on the third pairing, or even as a 7th defenseman. Where Olsen apparently made some progress was on the penalty kill, but obviously the Hawks will require more.
What Olsen needs now is to get top pairing minutes at Rockford next year. That's going to be hard to do with Shawn Lalonde and Ryan Stanton around, who had much better years in Rockford and won't be making the big club. Brian Connelly could also be brought back, and there's the small chance that Nick Leddy will be descending upon Western Illinois to get top-pair minutes for his development. So Olsen is going to have to earn it. Plus, the learning curve for a d-man is so much sharper. Olsen is going to have to have a huge year in the Rock to get the Hawks to take notice. Even 2012-2013 seems a long way a way for him.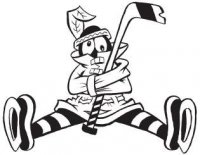 Sam Fels is the proprietor of The Committed Indian, an unofficial program for the Blackhawks. You may have seen him hocking the magazine outside the United Center at Gate 3. The program is also available for purchase online. Fels is a lifelong 'Hawks fan and he also writes for Second City Hockey .