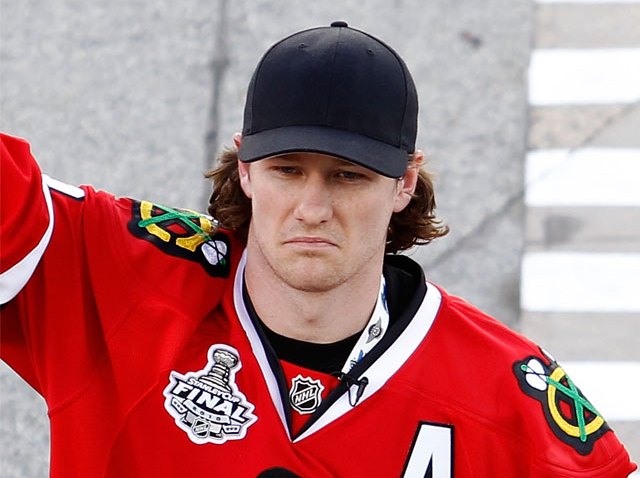 There's few more satisfying feelings lhan laying down a marker in your biggest rival's building, and it's especially sweet when they had just raised doubt from everyone in yours not much more than a week earlier. The Hawks started this important road trip in emphatic fashion, clubbing the Canucks 5-1.
But clubbing probably isn't the right word. This game was very even through two periods, and the Hawks had Duncan Keith and Corey Crawford to thank for that. It could easily have been a multi-goal deficit for the Men of Four Feathers. But as good teams do, and the Hawks are a good team and we should all accept that now, they just win. Doesn't have to be pretty, or dominating, but you just outlast the opponent and take serious advantage when they wilt. That's what the Hawks did. It was the old playbook: wait out the Canucks, their frustration will build, capitalize. So they did, on their first two power plays and then when the Nucks sent roving hordes forward and left them exposed at the back.
Notes:
-The most encouraging thing last night was the return of Duncan Keith to his dominant best. Without his usual partner and the Hawks down a d-man through the still inexplicable and infuriating dressing of John Scott, Keith had to do the job of about three guys. And he did. He saves three goals personally, broke up numerous other rushes, and calmed the Hawks down in their zone when they needed it. The Hawks are a great team when Keith is in this form. He is simply the most indispensible player on this team, because everything runs through him.
-Through the first 40 minutes, I thought Marian Hossa was jumpy and frantic all night. He had a lot of turnovers, was seemingly forcing things, and just seemed off. Of course, he then owned the 3rd creating two goals basically himself. Shows what I know.
-The Hawks have gotten this far without a power play, and now that portion of the game is starting to rev up. Look. Out.
-And of course, the Canucks fans blamed the refs. You can set your watch to these things.
-The Corsi numbers are ugly against the Hawks, but a lot of their undoing in that category was self-inflicted. For the first two periods the Hawks weren't very clean with the puck in their zone. When it was up to the Canucks to create on their own, the Hawks were at least equal. It's one warning sign that they're still struggling with this, but Seabrook's absence makes a difference, as he's the best passer out of the back. Keep an eye on it, though