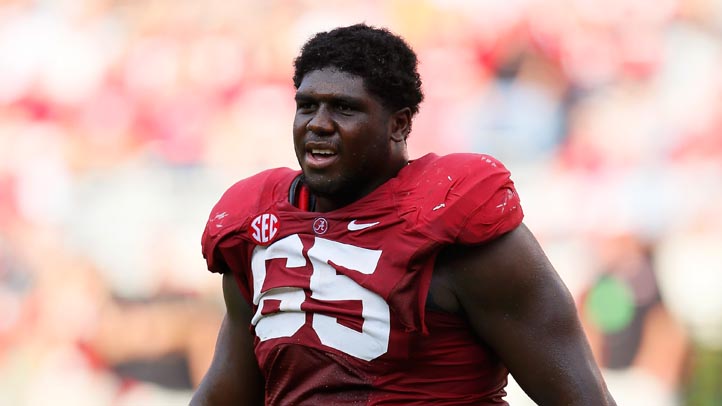 The Bears already made one major move to strengthen the offensive line when they signed left tackle Jermon Bushrod. This will create competition at right tackle, as Gabe Carimi and J'Marcus Webb will each push to earn the starting job. But the Bears still need to think about guards, and that's one area they can address with the draft.
Chance Warmack from Alabama is one of the best options for the Bears out of the draft. As a 6-foot-2, 317-lb. guard, he could fill holes in the Bears' interior line. He is known as a powerful run blocker, which would make Matt Forte quite happy.
The National Football Post says he has a nasty edge to his game, which the Bears line has been lacking since Olin Kreutz left the team. Part of keeping the quarterback safe means punishing the defenders who dare lay a hand on him. Warmack has the game to make it happen.
And it's not a bad idea for the Bears to bring in young, fresh talent on the interior. Lance Louis is a free agent who is coming off an ACL tear, and he still may not return. Roberto Garza just turned 34, and Chris Spencer and James Brown aren't as reliable the Bears need them to be.
Plus, that name! Think of all the headlines we can come up with the name Chance Warmack. It's a great, great football name that would fit well on the back of a Bears jersey. If he's available when the Bears pick at 20, Warmack would make sense for Chicago.
Copyright FREEL - NBC Local Media