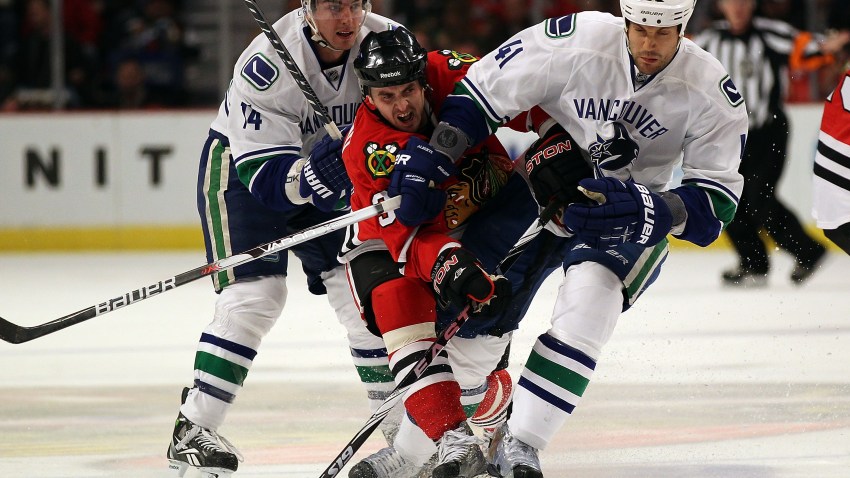 The Vancouver Canucks' downfall has never been a question of talent. The questions have been strictly between the ears.

Whenever there's been an exam of their testicular fortitude (we will make every Mean Gene Orkerlund reference possible), they have consistently failed. Their discipline falls apart and they march to the box to give the Hawks Boom-Stick of a power play chance after chance. They lose track of their system and run around everywhere, leaving spaces. They can't perform when they need it most.
The Canucks came into this season vowing that would all change. Alex Burrows and Ryan Kesler, two of the most annoying players to play against in the past, promised they were cutting that out this year and would concentrate on hockey.

Kesler most certainly has, and he's become one of the most dominant two-way players in the game. He's already at 30 goals, passing his career high. He skates every shift as if his body hair was on fire, but leaves it between the whistles. No more extra curriculars.

Burrows is still capable of shenanigans and foolery, but less so, and because of this, the Canucks have become a machine.
They do everything well. They're far and away the best faceoff team in the league, and with this much talent, when they have the puck as much as they do they will make you pay. Their power play is right behind the Hawks in the league standings. They're third in the league in goals for and goals against. This defense has kept Luongo shielded all year. Known-clown Kevin Bieksa has even cut out the dumbass tendencies and has been very effective on the top pair with free agent signing Dan Hamhuis.
And yet, I still don't buy it all. Yet.
I still think the defense lacks a little spit and vinegar and can be hounded into mistakes. I still think if you try, Bieksa and Burrows and Kesler and a host of others can be coerced into dumb penalties. I still think if Luongo face adversity in his crease, he'll complain to the refs instead of stop the puck.

We'll find out Friday when they take on the Blackhawks. They're saying all the right things about it being one in 82, but I don't see it.
The Hawks are going to have to make up this gap in talent with work. Dave Bolland is going to have to be in the Sedins' faces as much as possible. Toews is going to see Kesler all night, and he has to be better, which is no small task this season.

They say it's one of 82, but games between these two never are.