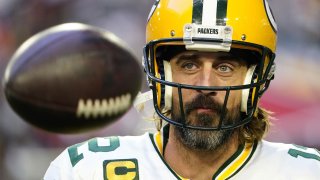 Twitter reacts to Aaron Rodgers comments on COVID-19 vaccination status originally appeared on NBC Sports Chicago
Aaron Rodgers hasn't had the best week.
After being ruled out of Sunday's game against the Kansas City Chiefs due to a positive COVID-19 test, questions about his vaccination status surfaced.
It was revealed that Rodgers is unvaccinated, despite previously telling reporters in August he was "immunized,".
Rodgers shared his side of the story on the Pat McAfee Show Friday and caused some controversy with his opinions.
Twitter was more than happy to let Rodgers know how they felt about his comments.
The Rodgers' situation will be something to keep an eye on as the season continues. Many placed his actions under scrutintity considering how he may have violated the NFL's COVID-19 policies and his explanation on Friday isn't likey to make more people trust him. 
Either way, folks are going to continue to have fun joking at how rediculous this situation is.  
Copyright RSN