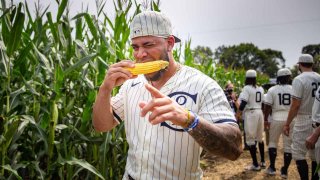 Dream on this: Cubs-Reds featured in planned Iowa sequel originally appeared on NBC Sports Chicago
CINCINNATI — It wasn't exactly heaven when the Cubs and Reds took the field Monday for the opener of a three-game series.
But maybe it was Iowa?
OK, maybe not even that. Not yet.
But by this time next year, that's exactly where this series in August will start.
Major league sources confirmed the Reds will be the Cubs' opponent in next year's Fieldof Dreams game in Dyersville, Iowa, one year after MLB staged the highly successful inaugural game that featured White Sox shortstop Tim Anderson's walkoff homer into the corn to beat the Yankees.
The plan, which has a few legal details left to iron out, calls for the Cubs and Reds to play at the Field of Dreams site Thursday, Aug. 11, take Friday off, and then conclude the three-game series Saturday and Sunday in Cincinnati, sources said.
Both teams' tentative 2022 schedules show Aug. 11 as an off day, but one source said that would be flipped with Friday's scheduled series opener.
The day before last week's Cubs-Sox game in Dyersville, Cubs manager David Ross let slip the fact the Cubs were to be part of next year's game — before quickly trying to walk it back.
Then the next day, during pregame conversations with media, baseball commissioner Rob Manfred confirmed the league's intent to bring back in 2022 an event that theoretically was a one-time thing.
"I think it's pretty clear we're going to be back next year, and we'll have to talk about it after that," Manfred said. "But it's just been so successful that it's hard not to take the opportunity to do it again."
Copyright RSN