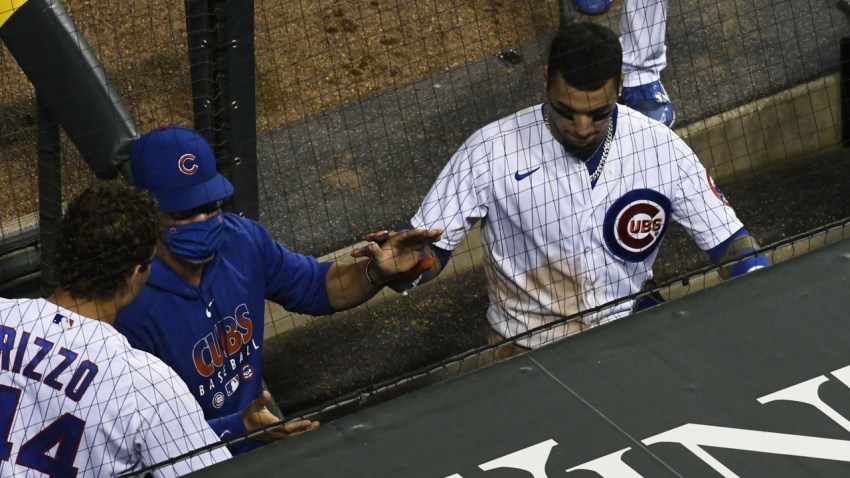 Quick takes: Cubs walk off Indians to extend winning streak originally appeared on NBC Sports Chicago
The Cubs had their chances early on Wednesday to put the Indians away but saved their best for last.
Javy Báez hit a walk-off single in the 10th inning, giving the Cubs a 3-2 win to extend their winning streak to four.
The Cubs had chances in the second (first and third, one out), fourth (bases loaded, two outs) and seventh (second and third, no out) where they didn't score. They nearly squandered a first-and-third, no-out chance in the 10th, striking out twice before Báez came through.
With the win the Cubs are back to a season-high 10 games above .500 for the first time since starting 13-3.
Some quick takes from the game:
Javy makes it happen
Báez' electric baserunning came up big in Tuesday's Cubs win, and his prowess on the basepaths played a big role again on Wednesday.
With a man on and one out in the fourth, Báez grounded to Cleveland shortstop Francisco Lindor, who started a potential 6-4-3 double play. But second baseman Yu Chang's relay throw for the twin-killing got away from first baseman Carlos Santana.
The ball kicked off Báez' foot and rolled up the first base line, allowing him to advance to third. He scored two batters later. After a Jason Heyward walk, Cameron Maybin reached on an infield single. Lindor had trouble getting Maybin's hit out of his glove.
Báez also started a double play, catching a line drive in the fourth and turning a double play with a rocket throw to first.
Fine in five
Jon Lester earned a no decision Friday in one of his best starts of the season. He earned another on Wednesday but again put the Cubs in a position to win.
Lester pitched five innings of two-run ball (both earned) allowing four hits, including a home run by Cleveland's Oscar Mercado in the fifth. He threw just 62 pitches, but only four of those were swings-and-misses.
Cleveland also made some hard contact for outs. Five of the 15 batters Lester retired tallied exit velocities of at least 99 mph. Whether he was pulled because of that or for another reason, the Cubs will take this kind of outing from him in October. He limited the damage and kept them in the game.
Lester's five-inning night ended a four-game streak of quality starts from the rotation (which he started on Friday). Cubs starters have posted quality starts in seven of nine outings.
'Pen keeps it up
The Cubs bullpen has come together nicely after some early hiccups and continued its run of success over the past few weeks on Wednesday. 
Ryan Tepera, Rowan Wick, Craig Kimbrel and Jeremy Jeffress threw five shutout innings. They combined to walk three (two by Tepera), while allowing one hit. José Ramírez beat Nico Hoerner's throw from shallow right field to reach on an infield single in the ninth.
Cubs relievers hold a 2.11 ERA since Aug. 28, second in baseball to the Padres (1.96) over that stretch.
2020
Wednesday's game was delayed for seven minutes in the fifth inning because of a…drone. Someone flew one over Wrigley Field mid-game, because, 2020. 
On Deck
The Cubs have their final off day of the season on Thursday before opening a three-game weekend series against the Twins at Wrigley Field. 
Former Cub Rich Hill (2-1, 3.81) and Kyle Hendricks (5-4, 3.29 ERA) are Friday's probable starters. First pitch is at 7:15 p.m.
Copyright RSN