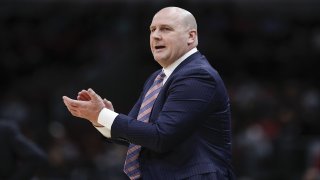 Jim Boylen to coach Team USA during World Cup qualifiers originally appeared on NBC Sports Chicago
Jim Boylen has found his next gig.
On Wednesday, USA Basketball announced that the former Chicago Bulls head coach will coach the USA Basketball Men's World Cup Qualifying Team, which this November will begin its quest for a spot in the 2023 FIBA World Cup.
The roster, according to a USA Basketball release, is expected to be comprised of mostly G League players, and the Qualifying games will be played in a bubble in Chihuahua, Mexico. Ty Ellis and Othella Harrington will serve as Boylen's assistants.
"I am excited, honored and thankful to take on the responsibilities of head coach for USA Basketball's World Cup Qualifying Team. To have this opportunity to represent my country in the November FIBA World Cup Qualifying games is truly humbling," Boylen said in a statement. "I have previous coaching experience with both Othella Harrington and Ty Ellis. They're really good coaches and they have international experience, so, their basketball knowledge and advice will be invaluable. I'm really looking forward to this amazing opportunity."
Boylen served as the Bulls' head coach for 123 games spanning parts of two seasons, amassing a record of 39-84, but was fired in August 2020 by the team's new front office regime led by Artūras Karnišovas. Known as a defensive-minded coach, Boylen served on NBA title-winning staffs under Rudy Tomjanovich in Houston and Gregg Popovich in San Antonio. He also owns experience as an assistant and head coach at the collegiate level.
Since his Bulls tenure ended, Boylen also worked as the 2021 NBA Draft Combine director, where he designed drills and workouts for draft hopefuls.
After training in Houstonland from Nov. 20-25, Team USA is scheduled to face Cuba on Nov. 28 and host Mexico on Nov. 29. Group D for the Qualifying games is comprised of USA, Cuba, Mexico and Puerto Rico.
Copyright RSN