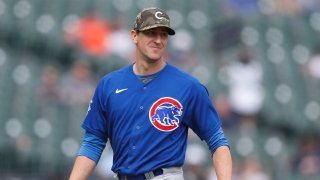 How 60-game sprint in 2020 helped create urgency in 2021 originally appeared on NBC Sports Chicago
SAN DIEGO — The Cubs reached the 60-game mark of the season with Monday night's loss against the Padres.
That's a season's worth of games by 2020 pandemic standards.
"We kind of just started and then we were done," Cubs outfielder Kris Bryant said, recalling the perilous, short and even eerie-at-times 2020 season.
Whether it's a blessing or a curse for this team that it still has 102 games left on the schedule this time around probably won't be determined for at least another month or so — between their June gauntlet of a schedule, the trade deadline and their health status.
But at least one tenured championship-core player believes the lessons of 2020's nine-week sprint to the NL Central championship can benefit a Cubs team criticized in the past by its own front office for lacking "urgency" at times.
"Subconsciously, maybe playing that 60-game season last year really limited our focus," rotation ace Kyle Hendricks said during a conversation with NBC Sports Chicago. "We knew we didn't have many games, and the importance of each and every game — and to grind it out and win and put our best effort out there every game — that was the predominant feeling that we had all year. And it's just carried over into this year."
It worked well enough to survive a rough April and put together a monster May that has the Cubs poised to turn a tough-looking June into a decision-maker for the front office heading into next month's trade market.
Which makes the next 45 games Sprint No. 2 in a marathon that the live-and-play-for-today Cubs might turn into three sprints toward what they hope is another playoff berth. If they get through the trade deadline with competitive strength intact, they would have a final 56-game sprint to the finish after July 30.
"I think it shows," Hendricks said. "We're playing so many close games, and we're losing some of them right now, but we're grinding out at-bats. We're in almost every game. And a lot of games we're winning, we're winning by a lot."
The Cubs finished 34-26 last year to win the NL Central.
With Monday's loss, they dropped out of first place, a half-game behind the Brewers, with a 33-27 record — and a 1-4 start to this San Francisco-San Diego road trip.
But even with the recent skid, eight of their last 12 losses were by one run, to Hendricks' point (albeit, only one in the last five losses).
"I feel like we're just starting, honestly," said Bryant, who played hurt during a 2020 season of COVID-19 protective bubbles, empty stadiums and that nine-week sprint to a 16-team playoff format. "It's cool to compare the two and realize that, hey, we still have over 100 more games."
Bryant's outlook might be as good a sign as any for the Cubs — their best hitter in the right frame of mind and feeling refreshed into the next mini-sprint to the end of July.
On the other hand, if the season had ended Monday, Bryant would almost certainly have another top-three or -four finish in MVP voting, if not his second MVP award.
"I like the MVP over the 162," he said. "That one I have feels really special."
And even though the record and division standing is off of last year's pace, the Cubs would be in the playoffs as the NL's fifth seed in the eight-team bracket if this were played under last year's conditions, and playing the Padres in a best-of-three playoff in San Diego — likely facing Yu Darvish in Game 1 and possibly Dinelson Lamet in Game 2.
That also happens to be their Game 61 and 62 opponents this year (with Lamet starting Tuesday and Darvish Wednesday).
"I hope we have to worry about going to the postseason," Ross said of the 60-game comparison. "Just not today."
Copyright RSN