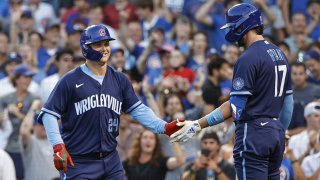 Platoon no more: Pederson 'a big part' of Cubs' success originally appeared on NBC Sports Chicago
Maybe it's the wispy blonde mustache. Maybe it's the stutter step at third on his trot around the bases.
Whatever it is, Joc Pederson's hot streak continued through the Chicago Cubs' 7-2 win Saturday against the St. Louis Cardinals at Wrigley Field.
"His numbers as of late probably aren't indicative even of as good as he's swung the bat," Cubs manager David Ross said.
And his numbers are good. On Saturday, Pederson hit a solo homer to center in the fourth inning, extending his home run streak to three games. Catcher Willson Contreras is the only other Cubs hitter who has homered in three straight games this season.
Pederson has hit five home runs in his last eight games, but his hot bat goes back farther. Since coming off the injured list (left wrist tendonitis) in early May, he's hitting just under .300. He's also become the Cubs' regular leadoff man, filling a role that's been passed around since Dexter Fowler left for St. Louis post-2016.
Pederson is batting .280 with seven homers in the leadoff spot this season. The way Ross sees it, Pederson has "carried" the team through parts of the year.
"He's been as big a part of our successes as anybody," Ross said. "Being in the leadoff spot, the way he carries himself in the locker room, the way he's attached himself to these guys and they attach themselves to him, I think he's just all-around really proven that he's a big part of our success."
Pederson signed with the Cubs this winter to prove he was more than a platoon player, which was his role for years with the Dodgers. On the way to the 2020 World Series, Pederson had just 10 regular-season plate appearances against lefties.
This year, 64 games into the season, Pederson has logged 43 plate appearances against left-handed pitchers. His .225 batting average against southpaws this season is far better than his career average against them (.195).
"Just win pitches one at a time, and was able to win some yesterday and help the team win, so it was a good feeling," Pederson said Saturday morning.
In the Cubs' 8-5 win the day before, Pederson hit a go-ahead two-run double off Cardinals lefty Génesis Cabrera.
On Saturday, Pederson's homer – off Cardinals right-hander Seth Elledge – tacked on another insurance run. The Cubs scored most of their runs Saturday via the long ball. Ian Happ and Sergio Alcántara homered before Pederson's solo blast. The Cubs added three more runs in the second inning thanks to a flurry of free passes and a single from Javy Báez.
"We've got a long way to go," Pederson said, "but we're playing really well."
Copyright RSN