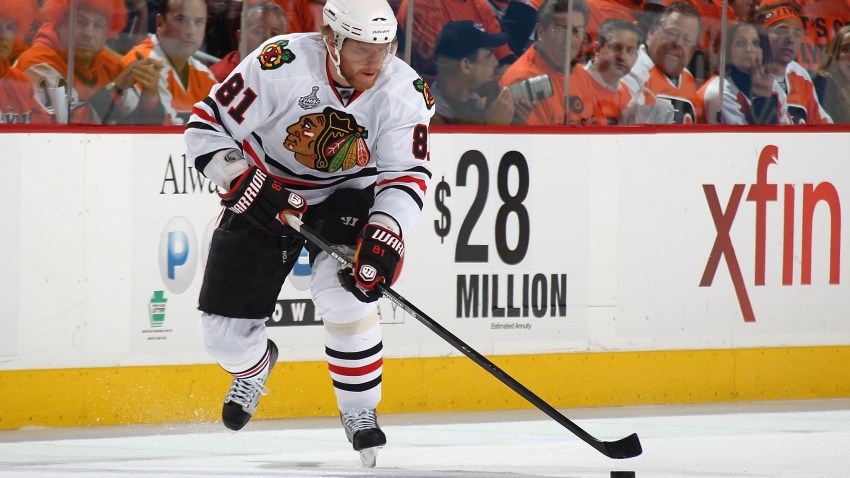 When he signed here two summers ago, no one though that Marian Hossa would become one of the more polarizing figures on the Hawks team. But after two seasons where he's run the gamut from Force of God to completely invisible, from being Mr. Healthy to Mr. Bill, essentially there are few Hawks fans who know what to make of Hossa. I certainly can't help you. Luckily, there's 10 more years on his contract to find out.
Positives: Well, that first month when he was the best player on the planet was pretty cool. Through the season's first seven games, Hossa had 11 points and was atop the league in that category. Too bad it didn't last. Then at the end of February and the beginning of March came a stretch of another 11 points in just eight games. As you can see, there are times when Hossa simply cannot be stopped, and he carries the team along with him. He's still the Hawks' second best two-way player behind Toews. Hossa was also the Hawks best player with the man-advantage, according to Behind The Net. If you go by points-per-game, Hossa was pretty much exactly what he was last year this year, all the while having linemates that seemed to change by the game.
Negatives: Health. Hossa just couldn't stay in the lineup consistently, missing time at the end of October and the beginning of November and then pretty much all of December after colliding with hindrance-to-progress Nick Boynton. When he was on the ice he was still carrying some of those injuries or feeling the effects. Went missing from too many games, as the minutes and ill-health piled up late in the season. Aside from Game 5 and the assist on the winner in Game 6, was a non-factor in the playoffs. His penalty killing took a real step back this season as well. The constant search for a center he can play with led to inconsistency from a lot of people, him as well. Too content to be a passenger at times when he can still easily dominate a game.
Contract Status: Signed through the rapture at a hit of $5.2 million.
Keep Him or Ship Him: There's a small but growing faction of Hawks fans that would like to see Hossa's contract moved. There is a belief amongst them that he will never stay healthy, never return to the 40-goal scorer he once was, and the nights when he just isn't there -- either through injury or age or indifference -- will continue to rise in numbers. They think he should be moved while he still has value. I am not one of those people. While his contract goes forever, the cap hit is manageable and isn't hamstringing the Hawks that badly. Health is always a concern, especially for a player over 30. But these are the first two years he's played less than 70 games in nine seasons. The miles of three consecutive trips to the Finals have added up, and now he gets an elongated summer. And the Hawks are lucky enough to have two forwards who can win games by themselves on either end of the ice. You simply just don't give up on them. With a longer summer, and hopefully the addition of a pass-first center for him or the permanent cementing of him with Toews, I expect the Hammer of Thor Hossa to be the more present one next year.