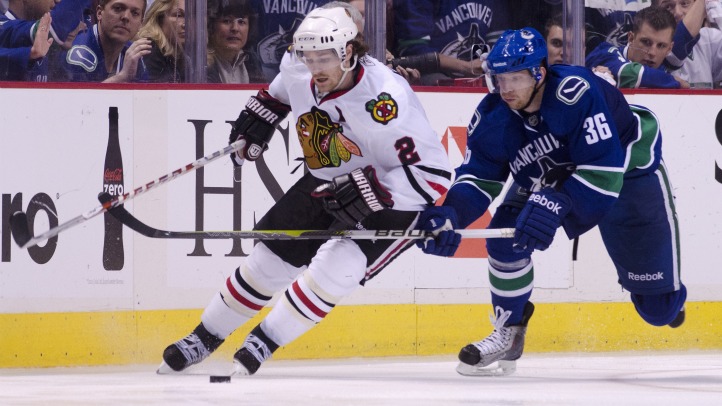 In hindsight - a sight one should never use -- it was always going to be asking a bit much to have Duncan Keith top a season in which he won a gold medal, Stanley Cup, and Norris Trophy (and he probably should have won the Conn Smythe too, as Toews didn't score in the last 10 games. But that's another debate for another time).
We certainly didn't expect a drop this precipitous.
Keith didn't get a lot of help, but was asked to log a half-hour each night when the season began. Keith didn't help himself much either.
Positives: There weren't many. He did stay healthy, though he probably could have used an injury break, and so could have we. During his brief spurts of competence, Keith still made the Hawks go. He was a +23 in Hawks wins, so you know how important he is. But sadly, those spurts were too far in between, a problem most middle-aged men know well.
Negatives: Good lord, this could go on a while. First what was out of his hands, which was the amount of time he was asked to skate. No one, after the season Keith just had, could have handled it. What made it even stranger was his play didn't warrant it, either. Keith was a spaz in his own zone, trying blind passes or dancing between forecheckers when the simple play would have gotten the Hawks out of trouble. He had, by careful estimate, 1,985 shots blocked by the first pair of shin pads he could find, as he was too impatient or lazy to use his feet to open up a lane. He ran around both ends of the ice like a headless chicken on speed at times. He bus-tossed his teammates after a game in Calgary, blaming the lack of net presence when his shots weren't getting through anyway and it wouldn't have mattered if a Panzer tank was in the crease. He admitted during the playoffs that there were regular season games in which he didn't care (though he wasn't the only one to suffer from this, not by a longshot). Ok, that's enough, I'm getting dizzy.
Contract Status: Signed until the end of time at a $5.5 million cap hit.
Keep Him Or Ship Him: There was a section of Hawks fans, one that apparently isn't getting enough oxygen, that was calling for Keith to be traded this summer. While Duncs had a disappointing year by any measure, giving up on a 27-year-old former Norris winner would be the definition of unfathomable insanity. One of the stranger phenomenae in Chicago sports is that once a player starts to make the star money that he's worth, he gets on the enemies' list around here. Keith knows how badly he was off this year, and the reasons for it. An extended summer stewing on that should leave a brick sized chip on his shoulder next year, and look for him to once again dominate games and be the straw in the Hawks cocktail.