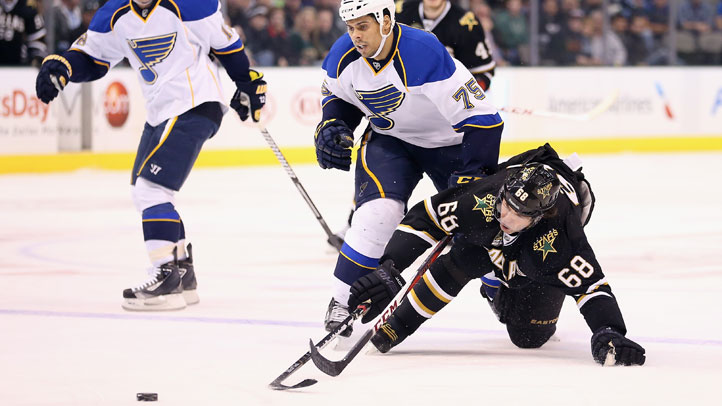 Every week, Madhouse Enforcer will take a quick look around the Central Division and let you know who's hot and who's not in our little corner of the hockey world.
1 (Last Week's Rank: 1): Chicago Blackhawks
The Blackhawks are only 1-0-1 on the young season, but they have shown flashes of the dominant play that defined the start of their season last year. They have scored a couple of power play goals, they're moving the puck well at even strength, and have been really good defensively at even strength. Their battle Wednesday with the Blues will start out a string of three games in four days, so their season will really get going soon.
2 (Last Week: 2): St. Louis Blues
The Blues had a great week, winning their opener and then routing the Florida Panthers by a 7-0 margin. When they play the Hawks on Wednesday, not only will they be trying to make an early season statement against their primary competition in the Central, but they will be trying to secure their first 3-0 start since 1993.
3 (Last Week: 7): Colorado Avalanche
We picked the Avs to finish dead last in the Central, but the 3-0-0 start they've gotten off to has been really impressive. Their defense has been incredible (only allowing three goals in those games), and they've beaten two 2013 playoff teams in the Anaheim Ducks and Toronto Maple Leafs. Oh, and new head coach Patrick Roy lost his mind in their first game:
4 (Last Week: 4): Dallas Stars
The Stars got off to a bit of a shaky start as they lost to the Panthers in their opener, but they righted the ship well against the Washington Capitals in holding them to only one goal in a winning effort. They're still learning their new system under Lindy Ruff, but they should have the talent to get things in gear.
5 (Last Week: 3): Minnesota Wild
The Wild may be 0-1-2 on the season so far, but there are reasons for optimism. One of the losses was a shootout defeat to the Los Angeles Kings, and they've also scored five power play goals in 13 chances so far this year. Their penalty killing unit does need work though, and their defense at even strength hasn't been all that great either.
6 (Last Week: 6): Winnipeg Jets
The Jets have gotten off to a very respectable start to their season, knocking off the Kings in their home opener, but there have been some bad signs otherwise. They've already allowed four power play goals in three games this year, and they have allowed 10 goals in those contests. Oh, and they allowed this goal:
7 (Last Week: 5): Nashville Predators
The Predators were looked at by many (including us) to be a potential playoff team this season, and while they've struggled defensively in their 1-2 start to the season, they did knock off the Wild in their home opener, so there is definitely hope for them to turn things around after a rocky start.