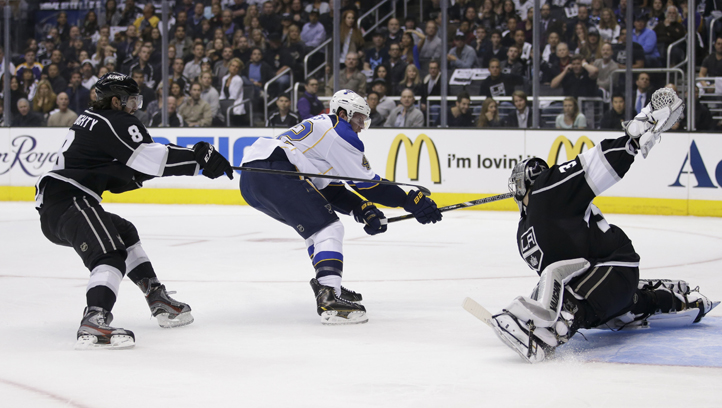 With less than a week to go before the start of the 2013-14 NHL season, Madhouse Enforcer will be previewing the upcoming campaign with a series of articles predicting how the season will shake out.

Today, we will be focusing on the Pacific Division of the Western Conference.
1. San Jose Sharks
The Sharks came within a game last season of knocking off the defending champion Los Angeles Kings during the playoffs, and are looking to do even better this season with much of the same lineup intact.
Having dynamic players like Joe Thornton, Joe Pavelski, and Logan Couture in the lineup is great for them, but having an excellent goaltender in Antti Niemi puts them over the top.
2. Los Angeles Kings
The Kings were dispatched from the playoffs last year in five games by the Chicago Blackhawks, but they didn't make it easy on the eventual Cup champions. Having a world-class goaltender like Jonathan Quick, as well as a couple of up-and-coming defensive stalwarts in Slava Voynov and Jake Muzzin, the Kings are gearing up for another potential run at a title.
3. Anaheim Ducks
The Ducks were stunned last season in a first round upset by the Detroit Red Wings, losing a Game 7 on home ice at the Honda Center. This year, the Ducks will be out to not only prove that last year was no fluke, but they will also be trying to make a run at one more championship before Teemu Selanne sails off into the sunset following the season.
4. Vancouver Canucks
With a new head coach behind the bench, the Canucks could be expected to take a step forward this season. Unfortunately for them, they will no longer have the security blanket of an excellent duo in net, with Cory Schneider being unloaded to the New Jersey Devils. Roberto Luongo is a great goaltender, but can he carry the full load?
5. Phoenix Coyotes
With ownership stability finally achieved in the desert, the Coyotes got busy in free agency this offseason, bringing in center Mike Riberio, and they also have some tremendous defensemen in Oliver Ekman-Larsson and Keith Yandle, among others. Even still, they likely don't have the
offensive firepower to compete against some really good teams in their division.
6. Edmonton Oilers
It seems like the Oilers have been rebuilding ever since their Stanley Cup Final appearance in 2006, and in many ways they have. They've had high draft picks every year for the past four seasons, and have little to show for it in terms of results. They are way too soft of a team defensively to compete for a playoff spot this season, and they must address that issue moving forward.
7. Calgary Flames
The Flames are, in a word, a mess. They've lost their two best players in Miikka Kiprusoff and Jarome Iginla, and the best players they added in the offseason were TJ Galiardi and Kris Russell, who aren't exactly cornerstone pieces to a lineup.