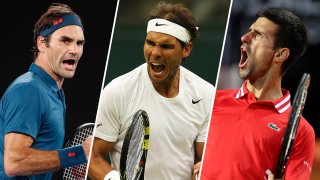 There's no denying that the game of tennis has seen three of the most legendary players to take a court in recent years.
Roger Federer, Novak Djokovic and Rafael Nadal have set such a high standard in men's tennis that can very well be unmatchable in the future.
While Federer retired in 2022, Djokovic and Nadal are still on tour trying to make history and set new records.
Djokovic won the 2023 Australian Open on Jan. 29 to earn his 22nd Grand Slam singles title to tie Nadal with the most all-time. Federer finished his career with 20 major titles.
Let's take a look at the Big Three and how they compare to one another:
Who is Roger Federer?
Federer is a 41-year-old professional tennis player from Switzerland.
He held the world No. 1 ranking for 310 weeks, according to the Association of Tennis Professionals. This included a consecutive 237 weeks on top, a record that still stands.
Federer finished as the year-end No. 1 on five occasions.
His career lasted 24 years.
Who is Rafael Nadal?
Spain's top dog and most beloved tennis star to date, Rafael Nadal, is a 36-year-old professional tennis player.
He holds a current ranking of No. 2 in singles by the ATP.
Nadal was previously ranked world No. 1 for 209 weeks and finished as the year-end No. 1 five times, similar to Federer.
His tennis career has lasted 21 years so far.
Who is Novak Djokovic?
Novak Djokovic is a 35-year-old professional tennis player from Serbia.
After winning the 2023 Australian Open, he will be ranked No. 1 in the world. He owns records for most total weeks spent No. 1 -- 373 weeks -- and the amount of times he finished as year-end No. 1 -- seven.
His tennis career has been in motion for 19 years.
How many career titles have Federer, Nadal and Djokovic won?
Federer has 103 career titles to his name.
Djokovic has 93 titles while Nadal has 92.
What are the career singles records of Federer, Nadal and Djokovic?
Swiss prodigy Federer has a 82% career singles record of 1251-275.
However, Nadal and Djokovic have him slightly beaten. Nadal has an 82.9% career singles record of 1068-220, while Djokovic has an 83.5% career singles record of 1043-206.
How many Grand Slam titles have Federer, Nadal and Djokovic won?
Nadal and has a total of 22 Grand Slam titles under his belt, while Djokovic has 21 and Federer has 20. Nadal takes the cake on this one.
What are Federer, Nadal and Djokovic's earnings throughout their careers?
When it comes to money, all of these athletes definitely scored pretty high. But if we are being technical, Djokovic wins in that department.
Djokovic has earned approximately $161 million throughout his career while Nadal has earned about $132 million and Federer has earned $130.5 million.
But if we're considering endorsements, Federer has made roughly $1 billion throughout his career.
"Federer's career earnings total of $1.1 billion before taxes and agents' fees is more than twice Nadal's $500 million and Djokovic's $470 million," said Forbes, according to their estimates.
How have the three athletes fared against each other?
Nadal and Djokovic
Nadal and Djokovic have played each other 59 times total.
These two superstars have faced one another more times than any other rivalry in history, which includes 18 Grand Slam matches (three at Wimbledon, three at the U.S. Open, twice at the Australian Open and 10 times at the French Open).
Djokovic is ahead in the head-to-head record with 30 wins, while Nadal has 29. However, Nadal has an 11-7 lead in Grand Slam matches against Djokovic.
Nadal and Federer:
The two have battled each other 40 times, with Nadal leading 24-16 overall. The Spaniard also leads the series 14-10 in the finals. However, Federer has proven strong in recent years, winning seven of their last eight meetings since 2015.
Nadal is undefeated against Federer at the French Open, winning all six meetings, and holds a 3-1 advantage over Federer at the Australian Open. Meanwhile, Federer leads 3-1 at Wimbledon. The two have never battled in the U.S. Open.
Djokovic and Federer:
Djokovic and Federer have been pinned up against each other 50 times in total. Djokovic takes a 27-23 lead in the head-to-head record, including a 13-6 finish in the finals.
The two rivals have played 17 Major matches and Djokovic also leads with 11-6 wins. He is the only player to have beaten Federer at all four Majors, and vice versa – Federer is the only one who has beaten Djokovic at all four.
In total, Nadal's 53-46 record boasts a 53.5 percent winning record against the two competitors, the best of the field. He's followed closely by Djokovic's 52.3 percent winning record, based on 57 wins and 52 losses. Finally, Federer has a 39-51 record, good for victory 43.3 percent of the time.