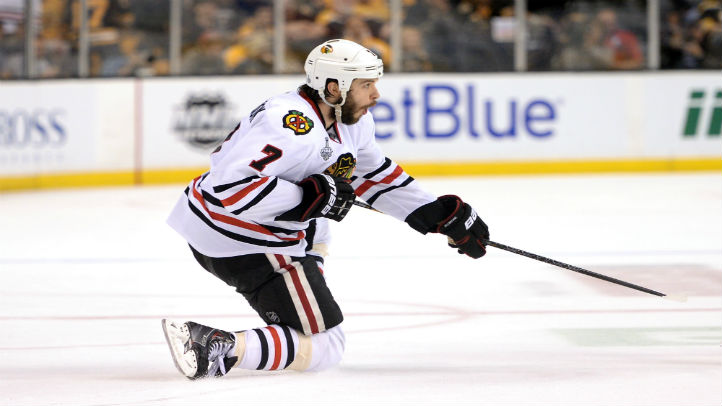 In Monday's edition of Hawks Headlines, we check out stories about how the Chicago Blackhawks are coping with their ample supply of off-days in the early going, an update on the health of a key Hawks prospect in Rockford, and also at profiles of several key Hawks' defensemen.
- You would think in a season that is condensed because of the Winter Olympics that the Blackhawks would be playing a ton of games, but in the season's first week, they only had two games scheduled. That will change on Wednesday when they begin a string of three games in four nights, but for now they're trying to deal with it as best they can, as Tracey Myers reports. [CSN Chicago]
- Breaking news: Michal Handzus is a tough man. Okay, that isn't exactly surprising, but even still Tim Sassone does a nice job of profiling the Hawks' veteran center. [Daily Herald]
- Blackhawks goaltending prospect Antti Raanta hasn't exactly seen his season get off to a good start with the IceHogs. He suffered a leg injury in the first period of the IceHogs' first game of the season. Yikes. [ESPN Chicago]
- Want to relive some of Brent Seabrook's biggest hits as a member of the Blackhawks? Well then you're in luck, because Greg Boysen has you covered. [Second City Hockey]
- Most veteran players in any sport will sign with a team for one of two reasons: money or a chance to win a championship. It isn't hard to guess which one of those camps Michal Rozsival falls into. [Chicago Sun-Times]
- Niklas Hjalmarsson may still look like a very young man, but he has done a lot of growing up over the past year or so. [Chicago Tribune]
- Finally, when people bring up the Hull family, they inevitably will think of the exploits of the Golden Jet Bobby Hull and his talented son Brett. Some will even throw Glenn Hall in there just because they get their vowels confused.
At any rate, Dennis Hull is another hockey player worth discussing, and Chuck Fouts has an interesting take on that subject. [Chicago Now]