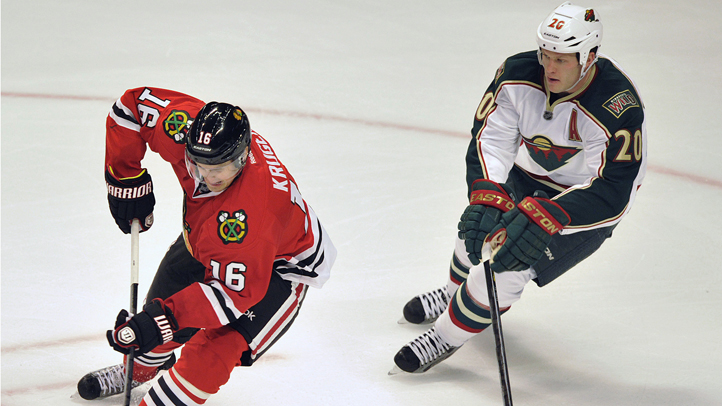 The Chicago Blackhawks were outplayed in just about every facet of the game on Sunday afternoon when they were beaten by the Minnesota Wild. They get their first chance at redemption on Tuesday at Xcel Energy Center in St. Paul.
The team will still be without center Dave Bolland and goaltender Ray Emery for the game -- they have been for the entire series -- but the Wild remain shorthanded as well, with goaltender Niklas Backstrom still out of the lineup. Josh Harding will make his fourth start in goal, and if the first three games are any indication, the Hawks won't have an easy time with him.
In terms of keys for the Blackhawks, they are going to need to start getting some production out of both Brandon Saad and Viktor Stalberg. These two have been lackluster to say the least in this series, despite being on lines with some fairly productive players. Stalberg has been especially atrocious, with 80-percent of his shifts beginning in the offensive zone. Saad does have guys like Jonathan Toews and Marian Hossa playing alongside him, so he will need to begin carrying his weight if head coach Joel Quenneville is going to continue to give him a good amount of minutes.
The Hawks will also have the services of Duncan Keith on Tuesday. Keith traveled back to Chicago to be with his wife as she gave birth to their newborn son, but despite missing the morning skate, Keith is expected to be in the lineup for Quenneville.
The Hawks aren't unfamiliar with key contributors becoming new fathers in the recent past. Patrick Sharp's daughter was born in December 2011, and just two days after her birth, her dad ended up netting the game-winning goal for the Hawks against the San Jose Sharks. It wouldn't be reasonable to expect a similar performance from Keith, but the extra adrenaline the news could provide him could be an interesting factor if he has a big game tonight.
Our Prediction:
Toews will finally assert himself fully into this series, scoring a goal and dishing out an assist on a power play marker. Corey Crawford will continue his solid postseason play, and the Hawks will pull out a 3-1 victory to send the series back to Chicago with the Blackhawks in position to advance on Thursday night.