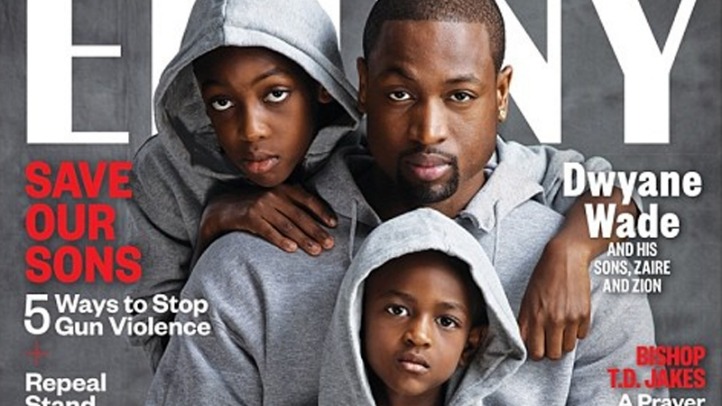 The not guilty verdict for George Zimmerman sparked an outrage across the United States, and not just from African-Americans, but all races.
The issue touched home within the NBA community, specifically for the Miami Heat. Remember the iconic photo the team took with them all wearing hoodies? Well, Chicagoan and Heat superstar Dwyane Wade took it a step further on the cover of this month's Ebony Magazine.
Wade is featured on one of four Trayvon Martin themed covers of the Chicago-based magazine with his two sons, Zaire and Zion, with a tagline that reads, "We Are Trayvon."
According to a press release, Ebony Editor-in-Chief Amy Barnett said, "As a mother of a young Black boy, the tragedy of Trayvon Martin affected me deeply. We simply cannot allow the conversations on this issue to come to a standstill. As the leading source for an authoritative perspective on the African-American community, at Ebony we are committed to serving as a hub for Black America to explore solutions, and to giving readers the information and tools they need to help ensure a bright future for all of our children."
Others appearing on the cover include Trayvon Martin's parents, Sybrina Fulton and Tracy Martin, and their son Jahvaris Fulton, film director Spike Lee, with his son Jackson, and actor-model Boris Kodjoe, with his son Nicolas.