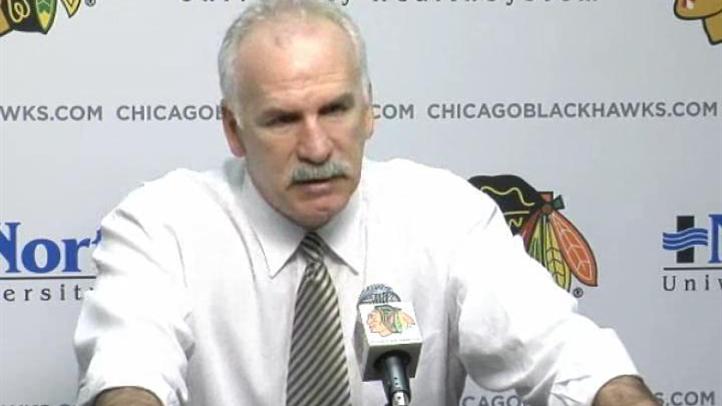 You might think that one loss in November when the other team's power play clicks so heavily and your team loses its discipline might not be a call to rearrange the whole lineup. I might think that, too. But you know, that's probably why we're not coaching the Blackhawks.
The buzz from practice yesterday was a complete shuffling of lines and defensive pairings. Let's just list them out and we'll talk about them after.
Sharp-Toews-Frolik
Carcillo-Kane-Hossa
Olesz-Bolland-Brunette
Stalberg-Kruger-Mayers
Keith-Seabrook
Leddy-Hjalmarsson
O'Donnell-Lepisto
God, I don't even know where to start. Let's go with the top, that's clean and even, right? The changing of the top line is an admission that Toews wasn't working with the slow feet of Andrew Brunette and the scattered brain of Viktor Stalberg. While Tazer's numbers aren't glittering like Kane's and Hossa's, they're certainly not bad. Secondly, Toews and Brunette were really making things work when they got to working behind the net. The line produced three goals in two games for Stalberg, and then another one for Toews the following game. It produced a plethora, buffet, and myriad chances for Stalberg against Tampa. It essentially had one bad night. Yes, Brunette is slow but there are ways to get around that. And he was always slow.
Compounding this is the breaking up of Bolland and Frolik, who despite recent struggles (which can be just as much attributed to the creaking and belching defense behind them) had formed quite the checking line axis of destruction. Maybe they think Fro's offensive game needs a jump start, and he can be the playmaker that Sharp needs to score. We'll just have to see. It leaves a wonky checking line with Brunette's feet and Olesz's.....well, general incompetence. But Bolland has had a habit of lifting the games of those he plays with. This might be his stiffest challenge. You'll also see no Bryan Bickell, who's probably being reminded that he's 6-4 and needs to play like it.
The good news is the reuniting of Duncan Keith and Brent Seabrook. Not only just for Keith's health, but the pairs have been off all year and this is one of the best in the league. If nothing else, 25 minutes of the game should be stable. On paper and in theory and in our dreams, the Leddy-Hjalmarsson pairing should work. Hammer covered for Brian Campbell for three seasons and Leddy's game is supposed to be similar. But given how skittish both have been in their own zone all year, and you might want to wear a helmet when they're out there tonight. Steve Montador is being punished for sins only Joel Quenneville can see, as the slow-footed O'Donnell can't give the Hawks the movement they would like.
But I gave up using logic on these things long ago.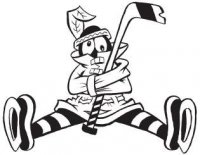 Sam Fels is the proprietor of The Committed Indian, an unofficial program for the Blackhawks. You may have seen him hocking the magazine outside the United Center at Gate 3. The program is also available for purchase online. Fels is a lifelong 'Hawks fan and he also writes for Second City Hockey .