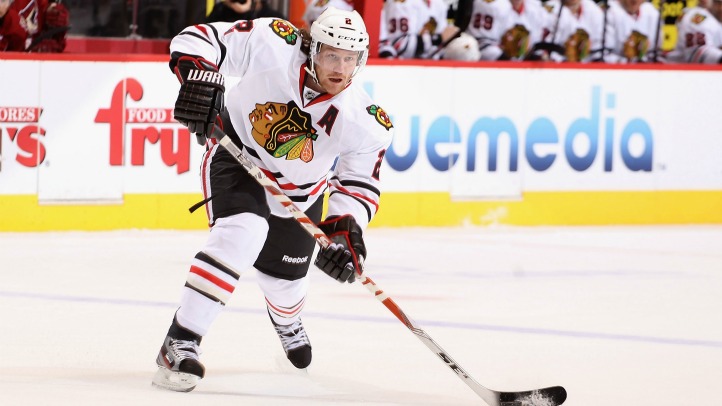 These previews are always a little goofy to write. These teams just played two days ago, what could have possibly changed in that time? Yeah, exactly.
Out of the morning skate we know that Marian Hossa was accounted for, so the Hawks will ice the same lineup that they did on Thursday. If there's any change, it would see Sami Lepisto come in for Sean O'Donnell to give the blue line in a little more mobility against a nippy Colorado forward group. But Quenneville is always hesitant to change a defense on a winning streak, so don't count on it.
As for the game itself, the Hawks merely need to clean up the second period from Thursday to improve on that effort. In the ending frames the Hawks controlled play, were clean with their passing and handling, and were spending a majority of the time in the good end of the ice. In the middle stanza, they were jumpy, sloppy, and under a barrage of shots. Thankfully, they had Corey Crawford to keep the game right where it was and hold it there until the Hawks emerged from the haze and fog.
As for the Avs, they won't be making any changes to the squad, just changes within it. According to reports from the Denver Post's Adrian Dater, TJ Galiardi has been moved from the fourth line wing to center, and was skating with Joakim Lindstrom and Chuck Kobasew. That probably means that Jay McClement will move to third line center, rookie sensation Gabriel Landeskog will find himself on the top lines somewhere, and maybe another change. Joe Sacco, the coach of the Avs, also called out his top two centers -- Paul Stastny and Matt Duchene -- in the press today. Watch for them to have a spark tonight.
Same story as before. As long as the Hawks are clean with the puck in their own zone, they'll have a bevy of chances. As long as the Avs' defense keeps chasing the Hawks forwards behind the net, leaving the slot in front of Semyon Varlamov, the Hawks will get prime chances they will bury.