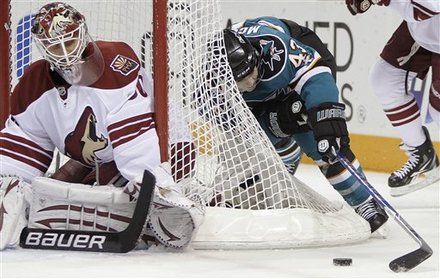 Four is better than three.
It's that kind of genius that led NBC to bring me aboard, because who else can give you that kind of analysis and eloquence? Exactly. Anyway, the Hawks try and extend a modest three-game winning streak tonight on West Madison against the X-files fodder Phoenix Coyotes. We say that because it's hard to fathom how for the second consecutive year the Yotes have conjured this much success from a group of players that would be politely described as modest and derided as "hot garbage".
The Coyotes have two genuine stars in goalie Ilyz Bryzgalov and defenseman Keith Yandle. Bryzgalov is heading into free agency and playing like he want to get seriously paid. He covers up a lot of warts for this team, as they routinely get outshot and out-chanced from game-to-game. He's a big goalie, so getting him moving from side to side will be paramount. If he's allowed to square up to the shooter, well, there just isn't a whole lot to aim at.
Yandle showed flashes last season of being a special talent, and he's put it all together this year. He leads the league in points for a blue-liner, and is the only Coyote defensemen who has free license to join the rush and get aggressive. He's making it count. You'll see him all over the ice tonight, hopefully the Hawks can catch him caught up ice and get some odd-man rushes the other way.
But aside from those two, the rest of this Phoenix squad are the proletariat. Nothing flashy, no one stands out, they just head to the assembly line of the rink and work harder than the guy across from them. They stick to coach Dave Tippett's system rigidly, which will look a lot like the Predators. One agressive forechecker, the d-men holding the blue line but not pinching down, making it tricky to exit your zone and having them excellently placed to pounce on any turnover or errant pass or clearance. But if you don't do that, they have a very hard time creating their own offense. Especially now, as creative winger, and AARP-member Ray Whitney is going to miss out with injury.
The Hawks should also light up on the power play. The Yotes have conceded six power play goals in their last two games, and that unit is a mess at the moment. Adrian Aucoin may play tonight, but if he doesn't this team doesn't have a huge amount of snarl to keep the crease in front of Bryzgalov clear. Troy Brouwer and Tomas Kopecky could wreak havoc if they so choose. The Coyotes are probably going to come out firing, as they've lost their last two games by a combined 13-6 and don't want to see a prolonged slide.
But if the Hawks play the same game we saw Thursday in Nashville, they should be fine. The Coyotes are not built to build the play 200 feet, and the Hawks are. Chipping pucks out of the Hawks zone and into the Yotes one and using their speed, though Phoenix is awfully quick as well, should see them profit. The Hawks need to rattle off a few more wins this week before anyone feels safe, and here's a team they're in direct competition with.