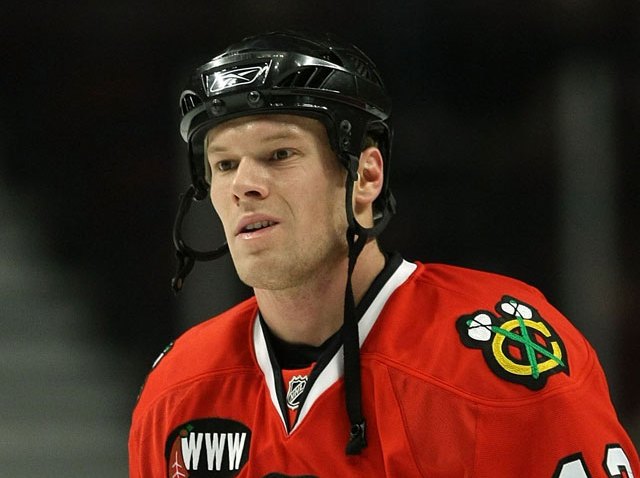 You know things are bad when you lament that "a guy" was so badly missed. Or underused. Or misused. But that's where we find ourselves today. If only Jordan Hendry had been preferred on those wasted nights of Nick Boynton and/or John Scott, maybe a point or two more would have been collected. And maybe the Hawks would still be playing. Which is probably a pretty good indication of just how helpless the bottom of the roster was. Because under no circumstance should a player of the low calibre of Hendry matter so much. Or maybe I'm just making too much of it. I do that.
Positives: When Hendry finally did draw back into defense, which came far too late in mid-December, he had his usual nothing-special-nothing-abhorrent game intact. Hendry just made the simple play, never tried to do anything more than his limited skill set would allow, and stabilized the bottom pairing which had been a goyder on the Hawks for the opening parts of the season. When he was sadly forced to skate at forward for the early parts of the year as Stan Bowman attempted to prove his cap genius while exposing his overall idiocy, Hendry at least skated hard and tried his best. It was unfortunate that he was put in that situation, but he did what he could.
Negatives: First off, the injury that ended his season and necessitated Chris Campoli's acquisition. For a #7 defenseman (at best) to blow out a knee, it doesn't spell good things for the rest of his career. There was the whole skating at forward thing, which doesn't fall on Hendry's shoulders but was still an abuse of our eyesight. And his underuse in the beginning of the year, when Boynton and Scott took their turns trying to be the closing credits to The Benny Hill Show still doesn't add up. Another thing that doesn't fall on Hendry, but affected the season overall.
Contract Status: Unrestricted free agent.
Keep Him Or Ship Him: If Hendry can recover from his injury fully, he certainly won't cost more than the 600K he made last year to be the Hawks depth defenseman. He's not going to break into anyone's top six one would think. However, with their insistence on making John Scott the seventh blue-liner (and our insistence on drinking until we forget that fact), Hendry is probably a goner from Chicago. He deserved a little better here, and considering he's suffered two horrific injuries in his career (a cracked skull in the spring of '08 to go with this shredded knee), one can only hope he latches on somewhere.