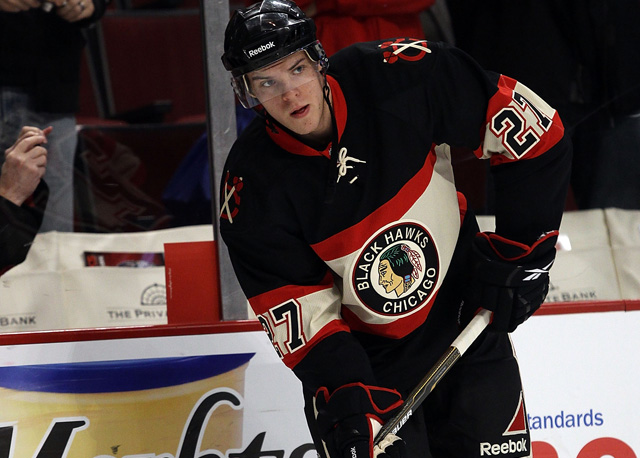 One of the debates going around Hawks Nation these days is whether Jeremy Morin should be kept up in Chicago for another five games and beyond.
For those who don't know, the way it works in Morin's first year in professional hockey is: if he plays 10 games with the Blackhawks, those games count as one year off his contract, which runs another two years.
Because he is American born, this does not apply if he spends the year in Rockford with the Hawks' AHL affiliate Icehogs.
Morin has played five games with the Hawks, and in those five he's shown flashes of being a real piece to the puzzle one day. He has one goal and one assist, but has shown an ability to create his own shot, and manuever into space with the puck to get him time to unleash what is a very nice stroke. He also knows where to be open in order to get passes. He's tried to be physical and be active on the forecheck. These are all good things. He's still a little slight, and his defensive work will take extensive inspection to improve.
For me, this is a can you shouldn't kick down the road. His contract won't be up for another two years, and who knows what the Collective Bargaining Agreement will look like by then. He only makes $700,000 and his hit would be smaller having been in the minors for a quarter of the season. Most of all, while he's not a star now, he can help this team win games now. He won't win it for you, but he'll pitch in. Even when totally healthy, the Hawks are short on players who can straight-up score, at least in comparison last year. With the right linemates Morin can make a portion of that up. I'd love to see what he'd do with Hossa instead of replacing him. The added space that Hossa creates could do wonders.
Still, if Morin is up he has to play on one of your two scoring lines. He doesn't have the defensive IQ to be on a checking line and he'd be a waste on an energy 4th line. With Hossa, Kane, Toews, Sharp, and Stalberg also needing those slots there may not be room for him. But I think the Hawks should find it.