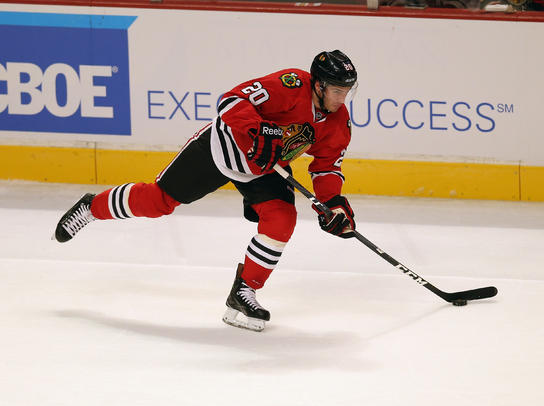 Before Game 1 of the Chicago Blackhawks' series with the Detroit Red Wings, head coach Joel Quenneville wanted to send a message to several of his players whose performance he was dissatisfied with.
Those two players were Viktor Stalberg and Brandon Saad. Both forwards were assigned white reserve jerseys at last Saturday's practice, and while Saad did make his way into the lineup for Game 1, Stalberg remained a healthy scratch.
Needless to say, the message was received loud and clear by the Calder Trophy-nominated winger. He had only 12 shots in the first round series, including seven in the Game 2, but he really kicked his game into high gear in the first game of the Detroit series, getting four shots on goal and missed on two more attempts.
His increased offensive presence may not have resulted in any goals, but it was definitely noticeable in the course of the game. The Hawks dominated the time of possession battle against the Wings, and ended up with a 42-21 shot advantage, and it was largely because of players like Saad. He utilized his speed well on the ice, pushing the tempo hard against the Detroit blue line corps and displaying the technique that convinced Quenneville to place him on a line with Jonathan Toews and Marian Hossa earlier in the season.
Saad will need to begin showing some statistical improvement in order to ensure his place in the starting lineup, especially with so many quality players like Stalberg and Ben Smith waiting in the wings to take his place. If Wednesday night was any indication, however, then Saad probably won't have to worry about his playing time again any time soon.