In the preview for last night's game against the Sharks, I said it would be a thorough examination of a certain, figurative piece of the Hawks anatomy. This was considering they were coming off a pretty greuling contest the day before on the road, missing two of their key cogs in Dave Bolland and Brian Campbell, and playing a team that's been as good as anyone around the past two months.
Consider this test passed. There are two more this week.
The Hawks were shaky defensively in the 1st, and that's putting it mildly. A rough estimate of missed chances to clear their zone? 143, give or take, at least that's what it felt like. Positional integrity was somewhere around zero, as those missed clearances caused panic and left Sharks wide open in some areas. But they were only breached on a two-man disadvantage (these change the game, Q?), and directly after a power play with some spotty decisions by Troy Brouwer. It could have been worse.
It could have been better, too. When the Hawks did press and gain the offensive zone, they looked threatening every time. Only some bad bounces and some great saves by Antti Niemi kept the Hawks from denting more than Viktor Stalberg's line shot to left field on a hanging curveball.
Then it was time for the top end talent to take over, and when they do there are few teams that can hang with the Hawks. Is it a model for long term success? Who knows? It's different than the Marxist fantasy of the last couple years when the Hawks could get you from anywhere. But with Toews, Kane, Sharp, and Hossa going full bore, it can be akin to Aries taking on the mortals. Maybe with great numbers you bring down the force, but maybe it's too much.
Both of Hossa's goals resulted in the Hawks dealing with a heavy-pressure kill by moving the puck quickly and changing sides with it, leaving someone open as the Sharks penalty killers were caught on one side. Both times Hossa came up between the circles and didn't miss. Antti Niemi's five-hole was the preferred target all night. The fourth goal was Ben Eager making a silly decision to go for a hit when covering a point and leaving Toews and Kane on a 2-on-1 after he whiffed. Toews eschewed the assistance and did the work himself.
Hammer's goal saw heavy traffic in front, and Kane's goal was the work of more lightning quick puck movement. I know some were aggrieved at the 3rd period let's ride this out until closing time gimmick, but considering it was the last period of a three-goal game after having played the day before, I think it's ok to give a pass.
What was truly heartening was that the Hawks gave up goals at the ends of both the 1st and 2nd periods. While you don't want this to happen at all, they responded to the first by putting up five in the following period and responded to the second by scoring 22 seconds later. A killer instinct has been missing a lot of the year, it wasn't last night.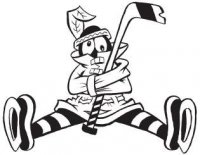 Sam Fels is the proprietor of The Committed Indian, an unofficial program for the Blackhawks. You may have seen him hocking the magazine outside the United Center at Gate 3. The program is also available for purchase online. Fels is a lifelong 'Hawks fan and he also writes for Second City Hockey .