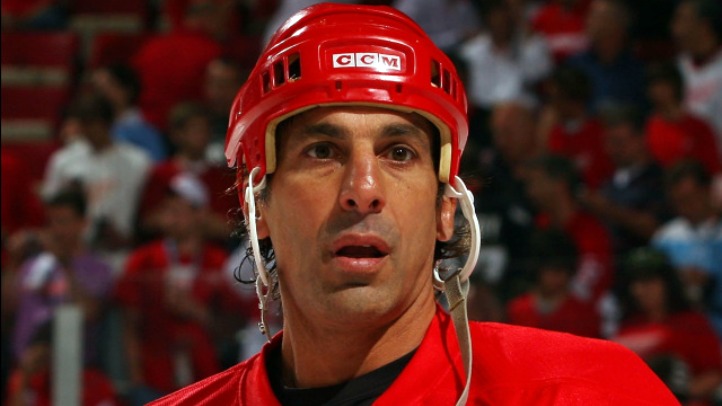 The Hockey Hall of Fame announced their 2013 class on Tuesday afternoon, and to the surprise of very few observers, former Chicago Blackhawks defenseman Chris Chelios was elected in his first year of eligibility.
Chelios, who was born in Chicago but began his NHL career with the Montreal Canadiens, was the Blackhawks' captain from 1995 to 1999, when he was traded to the Detroit Red Wings. Over his nine year career with Chicago, Chelios racked up 92 goals and 395 assists, and helpted the team to the playoffs in his first seven seasons with the franchise.
In those playoff runs, Chelios scored 12 goals, including six in the 1992 postseason that saw the Hawks reach the Stanley Cup Final against the Pittsburgh Penguins, and added 36 assists for good measure in 65 games.
Chelios also grabbed a couple of awards during his tenure with the Blackhawks, winning the Norris Trophy as the league's best defenseman in the 1993 and 1996 seasons. He was also an NHL All-Star seven times with the Hawks, and was selected as captain of the United States Olympic hockey team in the 1998 Nagano Olympics.
After Chelios was traded by the Hawks, he ended up playing parts of 10 seasons with the Wings, winning the 2008 Stanley Cup championship. He wrapped up his career with a seven game stint with the Atlanta Thrashers in 2010 after playing 46 games for the AHL's Chicago Wolves.
Currently, Chelios is serving as an Adviser to Hockey Operations for the Red Wings, working with the Wings' defensive prospects for their Grand Rapids AHL club.
Chelios is joined in the Hall of Fame's 2013 class by Scott Niedermayer and Brendan Shanahan.
Here is the video the United States Hockey Hall of Fame put together for Chelios when he was inducted into that Hall in 2011: