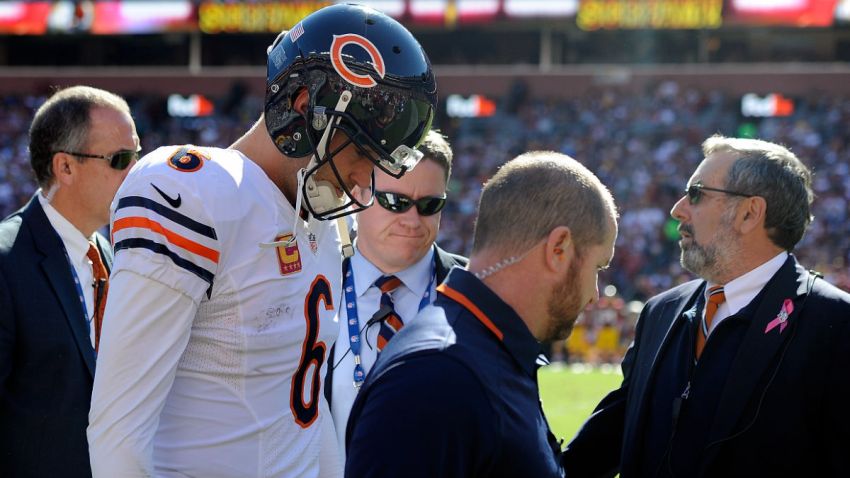 Brandon Marshall has been telling anybody who will listen that QB Jay Cutler will come back to the Chicago Bears well before the original "four weeks" timetable, which was laid out after Cutler suffered a groin injury in the Bears' Week 7 loss to the Washington Redskins.
Even still, it's hard to fathom that Marshall meant that Cutler would return this week against the Green Bay Packers, but head coach Marc Trestman didn't rule the quarterback out for the game:
Marc Trestman wouldn't rule it out completely, but he said "it's highly unlikely" Jay Cutler plays against the Packers. — Adam Hoge (@AdamHoge) October 29, 2013
Obviously, that is far from a legitimate hint that Cutler could play this week, but Trestman's refusal to rule Cutler out raises the question of why he wouldn't do so. Does he really think that the Packers might gameplan around the possibility that Cutler could take the field? Was he just having fun at the expense of the media gathered at Halas Hall on Tuesday afternoon?
The likely answer is that Trestman simply is engaging in the standard practice of "I don't have to tell you yet, so I won't" that so many coaches engage in. Bill Belichick, famous for his hatred of having to tell the media anything, is one coach who is notorious for the injury reports that he submits, often ruling players like Tom Brady "questionable" even though he has zero intention of actually pulling them out of the lineup.
At any rate, fans who are pinning their hopes on Cutler this week based on Trestman's remarks are likely going to be disappointed. There is zero point in rushing Cutler back when Josh McCown has proven that he can be a responsible steward of the offense, even without all of the weapons that the Bears now have at their disposal. The Bears would obviously be thrilled if Cutler were to make it back into the lineup by Week 11, but even that is still just an optimistic projection at this point rather than a goal that they are pushing for.