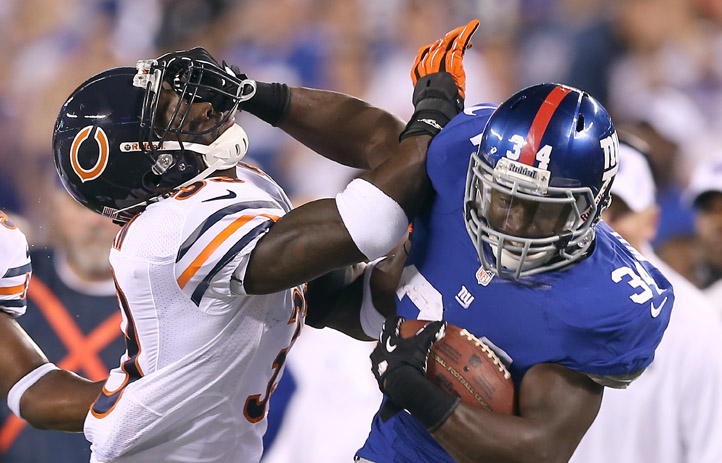 Is it possible to win a game and still look bad doing it? It is in the postseason, and the description fits the Bears to a tee in their 20-17 win over the New York Giants.
Is there much more to say than ugh? All three phases of the team's starters looked out of sync during Friday night's game against the Super Bowl-winning New York Giants.

Jay Cutler went 9-21 for 96 yards in just over two quarters of football. The few highlights were his 21-yard touchdown pass to Brandon Marshall and a few connections with Alshon Jeffery.

"We just looked off tonight. Our communication was lacking," Cutler said after he was pulled from the game. "We missed some stuff we should have hit. We left a few plays out there. I thought the offensive line did a good job pass blocking. We have to get the run game going a little bit. So there is work to be done, but we were right there in the game."

Cutler wasn't alone in not playing his best. Earl Bennett made an uncharacteristic goal-line drop. Matt Forte couldn't break free for a big run until the Giants pulled their first-team defenders and had just 39 yards on 10 attempts.

And it wasn't just the offense that looked off. Charles Tillman was penalized three times for pass interference and was burned by Ramses Barden on a touchdown. David Wilson made mincemeat of the Bears run defense, getting 49 yards on five carries. On special teams, the Bears allowed a blocked punt.

All in all, the team just didn't look right. They seemed to take steps back after last week's win over Washington.But the good news is that it is the third preseason game and not week 10 of the regular season. The Bears have time to work out their communication, timing and all-around-ugh issues before their season starts Sept. 9.


Copyright FREEL - NBC Local Media