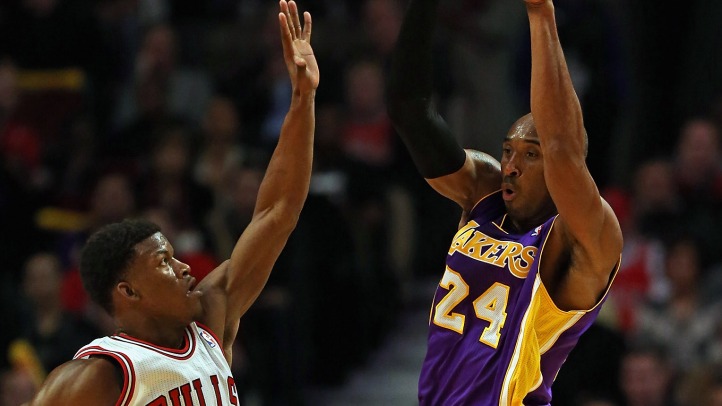 Before games, Jimmy Butler is usually the most accessible player on the Bulls roster. While most of the guys are hiding out of sight, Butler is usually ready to talk to reporters whenever he's asked. But Monday night was different.
Butler didn't talk to anyone. The second-year swingman just sat quietly in his locker with his headphones on, intently studying the scouting report. His assignment for the night? Guard one of the greatest NBA players of all time: Kobe Bean Bryant.
"I have nothing but praise for the way he competed. Nothing but praise," said Bryant of Butler after the game. Jimmy played great defense, forcing Kobe to shoot just 7-22 from the field. And the shots he did make, they were tough ones and didn't come easy.
"I was proud of how he played. Defensively, he stuck to his principles and did a sound job and I have nothing but praise for him."
In the locker room after the game, Butler's teammates were calling him "the Kobe stopper." But Butler was just pleased to play well against a player he looked up to growing up.
"I thought about matchup with Kobe after the last game," admitted Butler. "He's a great player and I wanted to see if I could guard him. It was great to go out there and compete and play against one of the greatest players of all time."
Jimmy more than held his own against Bryant and it should help boost his confidence going forward. But despite the praise from Kobe, Jimmy Butler wasn't exactly ready to attribute Bryant's struggles from the field on his defense alone.
"He had an awful night. He missed shots that he normally makes. That's who Kobe is, a real tough matchup," Butler explained. "It's hard, my teammates were there for me, but I just tried to make everything hard for him. It was all about getting into his space, but it wasn't just me defending him. If I got beat, Joakim or Booz or somebody was always there, so we defended him as a team, I should say."
Tom Thibodeau's postgame comments jibed with Butler's asssment as well.
"Jimmy was terrific. A guy like Kobe, you can't guard him individually and so, you have to rely on your entire team," Thibodeau said. "With Kobe, he missed some shots that he normally makes, but you have to guard him with your whole team, in every aspect. He goes from a one-on-one to a back-down to a pick-and-roll—very few guys can do that and he's great in all three—and then, he's great moving without the ball and he can play-make, he's got great will, he's clutch, so you can never let your guard down against him."
But despite deflecting any praise that came his way, it was easy to tell that Butler was happy and excited to have played well against an all-time great in just his second start of his career. And not only was the matchup with Bryant exciting for him, it was also exciting for his mom as well.
"My mom's favorite player is Kobe – besides me, of course – so it was crazy for her to be here and see me matched up against him. My brother left today and Kobe is his favorite player, too. But it was good for my family to see me start."
Follow "Outside Shot" on Twitter (
@Outside_Shot
) for more Bulls news and information.