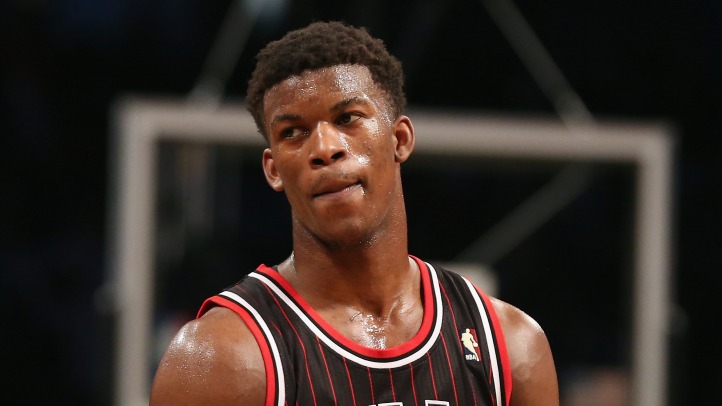 "I'd rather have 'Jimmy with 28 points and the Bulls win,' but points are just a stat. I'd rather win games."
That was Jimmy Butler on his career scoring night after the Chicago Bulls lost to the Toronto Raptors -- a team not heading for the postseason. All season long, the Bulls have seemed to play to the level of their competition. That was the certainly the case against Toronto on Tuesday.
Well, except for Jimmy Butler, who continues to show an ability and desire to be a big time player in the NBA, with one slight difference: while other players desire to prove their worth on the offensive end, Butler desires to prove his worth just by doing whatever is necessary to help the Bulls win.
Even if that means he doesn't score a single point.
"I'd rather not score at all and get a mark in the win column. But it feels good to put the ball in the basket a little bit," he said. "We all could have done more as a team on the offensive end or the defensive end to help win this game."
In a game where big time dollars are earned by an ability to put the ball in the basket at a high rate, Jimmy Butler wants to earn his money simply by being a part of the reason the Bulls ad W's to the win column.
"Plays hard, great demeanor, keeps battling, keeps getting better and better," was Tom Thibodeau's assessment of his reserve swingman this season.

Butler has made himself into a valuable part of the Bulls rotation ever since he got his first real opportunity to play back in January, but he's not getting ahead himself.
The Marquette alum knows he has plenty of work to do and his only concern is this season, nothing beyond that. But it does make him smile to know that his hard work is appreciated by his teammates, coaches and the Bulls fans, and the fact that everyone wants him to stay in Chicago for as long as possible.
"The future -- hell, tomorrow's not even promised -- not to even think of next season. It brings a smile to my face obviously, but I try not to get too caught up in the future because it's not promised," he said. "You never know what can happen, so right now, I live for the moment and I praise every moment that I'm given because it's a blessing. But knowing that they want me to be here alongside Derrick, Lu and all these other guys, that makes me smile."
Normal 0 false false false EN-US JA X-NONE /* Style Definitions */ table.MsoNormalTable {mso-style-name:"Table Normal"; mso-tstyle-rowband-size:0; mso-tstyle-colband-size:0; mso-style-noshow:yes; mso-style-priority:99; mso-style-parent:""; mso-padding-alt:0in 5.4pt 0in 5.4pt; mso-para-margin:0in; mso-para-margin-bottom:.0001pt; mso-pagination:widow-orphan; font-size:12.0pt; font-family:Cambria; mso-ascii-font-family:Cambria; mso-ascii-theme-font:minor-latin; mso-hansi-font-family:Cambria; mso-hansi-theme-font:minor-latin;} Follow Outside Shot on Twitter (@Outside_Shot) for more Bulls news and information