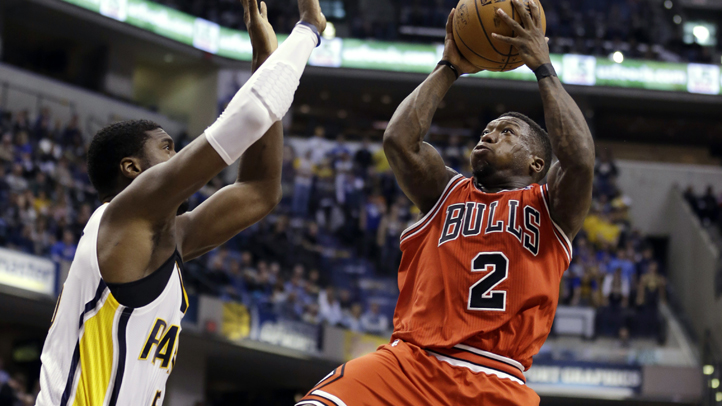 David West scored 29 points and Paul George had 21 points, 11 rebounds and five assists, leading the Indiana Pacers past the short-handed Chicago Bulls 111-101 on Monday night, and into a share of the Central Division lead.
The Pacers won their third straight to tie the Bulls for the division lead and extend their home winning streak to 14, matching the team's longest since 2002-03.
Marco Belinelli had a season-high 24 points and Nate Robinson had 19 points, nine assists and five rebounds to lead the Bulls, who lost for only the third time in nine games.
The Bulls played again without starting guards Kirk Hinrich (elbow), Derrick Rose (knee) and center Joakim Noah (foot). The Bulls also survived a scare when Marco Belinelli crashed to the floor clutching his right ankle late in the first quarter. It slowed him down, but he returned later and almost single-handedly brought the Bulls back late.
Carlos Boozer, who missed Saturday's game with a right hamstring injury, started and finished with 10 points and five rebounds.
Those expecting a slugfest between the teams with the top two defensive field goal percentages were surprised.
The Pacers finished with their highest point total in a non-overtime game this season, topped 100 points in four of their last five games and shot 52.7 percent from the field just three days after shooting a season-best 55.7 percent against Miami. They started the game fast, making their first six shots to take a 13-2 lead, and finished the first half nearly as fast, using a 12-4 run to break a 48-48 tie to make it 60-54 at the half.
Indiana shot 66.7 percent from the field in the half.
Chicago had seven players in double figures and continually charged back but never led in the second half.
Robinson opened the second half with a 3-pointer and a 20-foot jumper to close the deficit to 60-59, but a few minutes later, Indiana seized control with two quick scoring flurries.
The first came when Paul George hit a 3-foot jumper from Paul George, Lance Stephenson completed a three-point play and George Hill had a four-point play on three successive series to make it 73-63 with 7:35 left in the third. Then, after Chicago scored four straight points, Indiana answered with six straight to take a 79-67 lead. The Pacers still led 87-76 at the end of the third quarter.
Chicago rallied again in the fourth, using an 8-0 run to close to 90-84, and the Bulls got as close as four three times.
But the Pacers sealed the victory with a 3 from George and two free throws from West to make it 103-94 with 1:05 to play.
Copyright AP - Associated Press