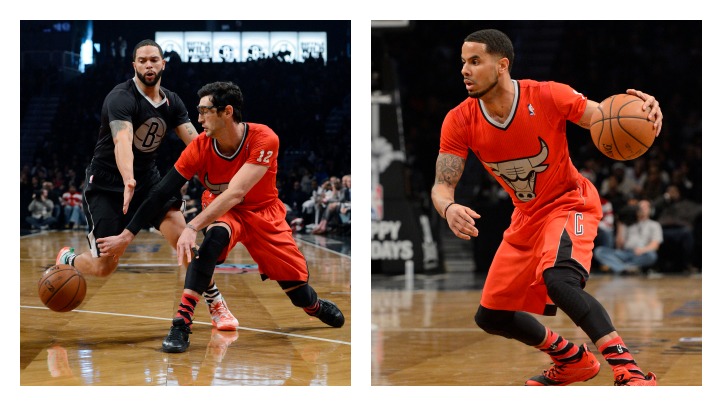 It only happened for a few minutes against the Brooklyn Nets on Christmas Day, but when Kirk Hinrich and DJ Augustin were on the floor together, it certainly created an interesting dynamic. With each player having the ability to handle the ball, shoot from the outside and set up teammates for easy scores -- while at the same time being able to create their own offense off the dribble -- it's a strategy Tom Thibodeau may employ more often as the season goes on.
"I like the combination when D.J. and Kirk were in together," said Tom Thibodeau after the Bulls defeated the Nets. "Just having a secondary ballhandler gives you the opportunity to run pick-and-roll on both sides of the floor. But I think the big thing is having shooting on the floor and when you have shooting, it opens things up inside. Carlos had 14 [points] and Taj had 20 [points] and the reason why is because there's space. You've got to have shooting and so, I was pleased with that."
And not only did Thibs like the tandem, so did Augustin and Hinrich.
"That's fun. Kirk is a great player. We both can see the floor, so it's fun playing with him because we can both push it and either one of us can play the one," said Augustin.
"I liked it. I feel like it's a good lineup for us. We can go to that at times. We've got two guys who can play pick-and-rolls. D.J.'s been great for us so far, so it's been a huge boost for us," added Hinrich.
The Bulls will host the Dallas Mavericks on Saturday night, so perhaps we'll have another opportunity to see how the Hinrich/Augustin pairing works against another good backcourt paring in Jose Calderon and Monta Ellis.