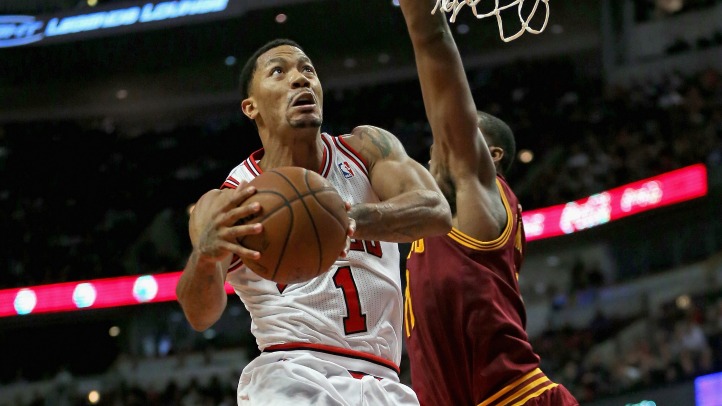 For the second consecutive day, Derrick Rose didn't practice with his teammates as he continues to receive treatment on his sore right hamstring. The Bulls are in Toronto on Friday night to take on the Raptors and Rose's status for the game is uncertain, although the point guard insists that he could suit up and play.
"There's a chance," Rose said after practice on Thursday. "Right now I'm feeling all right, just trying to rest, do a little treatment. But more than likely I'll be out there playing."
Rose injured his hamstring on Monday night against the Cavaliers and has been receiving treatment since Tuesday. After the game, he downplayed the severity of it, but the point guard is fully aware that any time his name comes up due to injury, it's going to be a major cause for concern, no matter how minor he feels it is.
"It's not a concern at all. I think everything I do or if I get hurt -- it can be anything -- it's going to be blown out of proportion," he said. "I'm doing fine and it shouldn't be anything to worry about, I'm just tight. I'm just trying to take my time. Don't go out there and overextend myself. I haven't been practicing the last couple of days, but I know I should be ready to go."
"It's day-to-day," said Tom Thibodeau. "It's a little bit better today. We'll see where he is tomorrow. It will be a game-time decision."
Obviously, the Bulls are being cautious with injuries to their star – or any player on the roster for that matter – but Rose said if the team needs him, he'd be ready to play.
"I could go right now. If the game was today, I'd be playing," he said. "I'm not worried about that. It's taking my time, not pushing myself and not overextending myself. So that should ease everybody's minds."