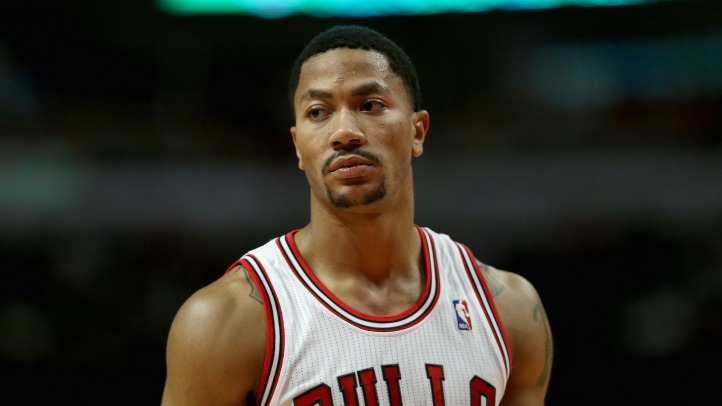 The Chicago Bulls may have won the game against the Cleveland Cavaliers, but Derrick Rose suffering a hamstring injury in the process makes it feel somewhat like a loss. The last thing fans want to hear about is another injury to the team's best player, but Tom Thibodeau classified the injury as "minor," and Rose himself said it's nothing to be concerned about.
"It's just a minor sprain, nothing serious," Rose said to reporters after the game. "Hopefully I'll be better in a couple days, but it's nothing big at all."
Rose drove the length of the court, attacking the basket and finishing the shot at the rim in his usual fashion. But after making the layup, the guard could be seen grimacing and running awkwardly and mouthing that the issue was his hamstring.
"I remember coming down the court. I really didn't feel it until I came down and went back to the bench, and they were asking me about it," Rose explained. "Coming back in, there was a play where somebody knocked the ball out of bounds or something like that and they said I wasn't moving good enough to be out on the court, so they came and subbed me out."
Rose said he didn't exactly remember when the injury occurred or how it happened, but continued to downplay the severity of it and insisted that he was fine.
"It had to be on the drive. But stuff happens. I've just got to play through it and get back healthy," he said. "If I knew, I would tell you. But I don't know if it was before or it was after. I don't know if it was during when I was running down the court or right when I took off. I really don't know. I was too caught up in the play."
The Bulls don't play again until Friday against the Raptors in Toronto. That gives the point guard and the team's medical staff three days to try and get him better.
When asked if he'd be ready to go against Toronto Rose said, "I should be. It's nothing big at all. I'm still able to walk around, move around the way I want to. Just a little sore."