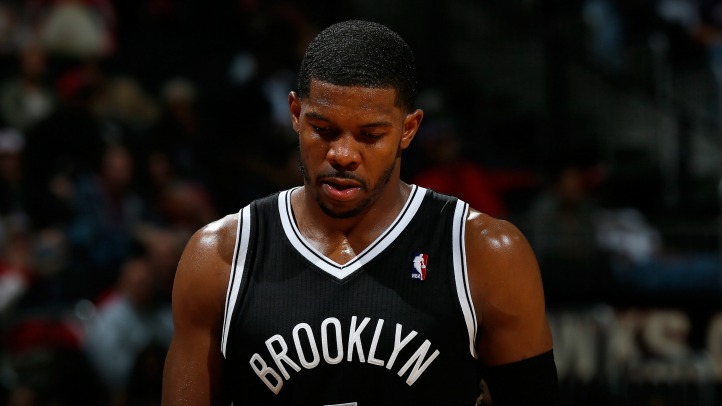 Joakim Noah isn't the only player in the Chicago Bulls and Brooklyn Nets series dealing with plantar fasciitis in his feet. Joe Johnson is also fighting a bout with the painful ailment and his status is unknown for Thursday night's Game 3 showdown.
The Nets are proceeding as if their star two-guard won't be available which clearly moves the needle in the Bulls favor.
"We'll see if he can play," head coach P.J. Carlesimo said to ESPN Chicago after the team's shootaround at the United Center on Thursday morning. "If he can play he's going to play."
Johnson says he's been plagued by plantar fasciitis since February, but it worsened in the first quarter of Game 2 on Monday night, a game in which he scored 17 points on 6-18 shooting from the field.
"We need him and we need him healthy," said Deron Williams. "That being said, we don't know how he's feeling. We have to go out and play hard. It's the playoffs and injuries happen. It's somebody else's chance to step up if that's the case."
Said Johnson, "I'll do the necessary things I need to do to get back out on the court."
Normal 0 false false false EN-US JA X-NONE /* Style Definitions */ table.MsoNormalTable {mso-style-name:"Table Normal"; mso-tstyle-rowband-size:0; mso-tstyle-colband-size:0; mso-style-noshow:yes; mso-style-priority:99; mso-style-parent:""; mso-padding-alt:0in 5.4pt 0in 5.4pt; mso-para-margin:0in; mso-para-margin-bottom:.0001pt; mso-pagination:widow-orphan; font-size:12.0pt; font-family:Cambria; mso-ascii-font-family:Cambria; mso-ascii-theme-font:minor-latin; mso-hansi-font-family:Cambria; mso-hansi-theme-font:minor-latin;} Follow Outside Shot on Twitter (@Outside_Shot) for more Bulls news and information