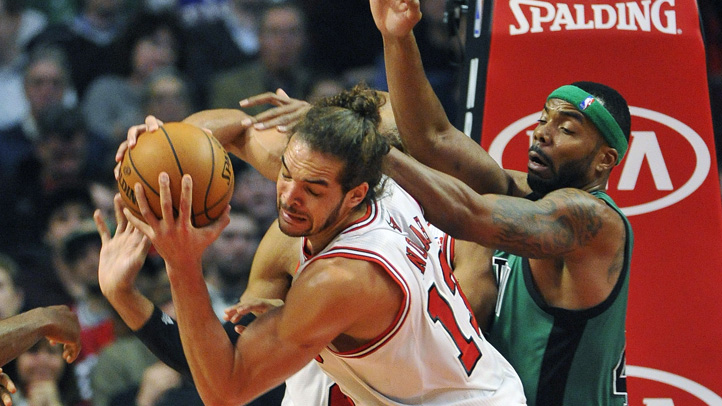 Luol Deng and Carlos Boozer scored 21 points apiece, Joakim Noah had a triple-double and the Chicago Bulls beat the Boston Celtics 100-89 on Tuesday night.
Noah had 11 points, 13 rebounds and a career high-tying 10 assists for his second career triple-double, and the Bulls evened a 101-95 home loss to Boston on Nov. 12.
Nate Robinson scored 18 points for Chicago and keyed a fourth-quarter surge that put the game out of reach.
Rajon Rondo led the Celtics with 26 points and eight assists. Paul Pierce added 16 points.
The Celtics have lost a season-high three straight games, all on the road.
The Bulls improved to 4-2 in the second of back-to-back games this season. Chicago bounced back from an 80-71 loss in Memphis on Monday, putting up their lowest point total in five seasons.
One bright spot for Boston was that Rondo turned the ball over just three times after totaling 14 in his previous two outings. Rondo turned the ball over 33 times in Boston's six games coming in.
The Bulls blew the game open with a 16-5 run to start the fourth quarter. Robinson hit three of his five 3-pointers during the run and scored 15 of his 18 points from behind the arc.
Noah fed Taj Gibson for his 10th assist with 8:07 to go in the fourth, increasing Chicago' advantage to 15. His previous triple-double came against Milwaukee on Feb. 22.
Gibson scored a season-high 13 points off the bench, seven in the fourth quarter.
Robinson and Jimmy Butler scored six points each as the Bulls extended their lead to 13 points in the second quarter. Robinson two 3-pointers, and the Bulls shot 54 percent in the first half.
Boston closed the half with a 7-2 run, with Rondo banking in a 3-pointer and scoring a layup to pull the Celtics within 55-48 at the break. Rondo had 13 points and five assists in the opening half, while Kevin Garnett added 10 points and seven boards while hitting all five of his shots from the floor.
Rondo had 13 points and three assists in the third quarter and brought the Celtics within three on a layup with 3:40 to go in the period. Chicago scored the next nine points and led 79-70 entering the final period.
Boston was outscored 30-12 after narrowing the lead to three in the third. Garnett was 0 for 5 and went scoreless after halftime.
Deng scored 14 points in the first quarter, going 8 for 8 from the line as the Bulls took a 28-23 lead. Noah assisted on Chicago's first four field goals and finished with six rebounds and five assists in the period.