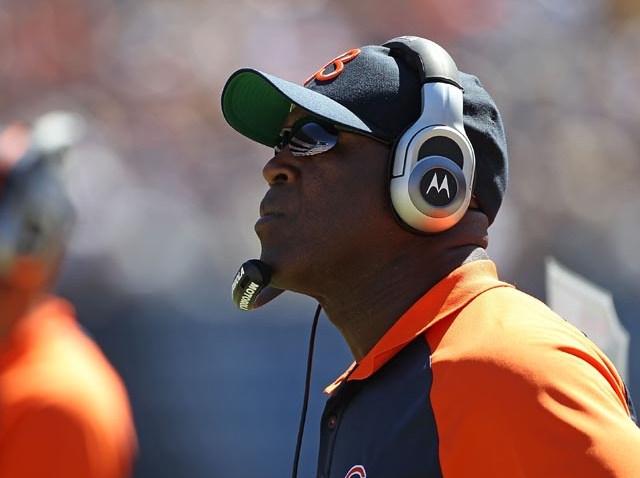 As the offseason continues to drag on, we are continuing our look at the player evaluations for the 2013-14 Chicago Blackhawks. What did they do right? What did they do wrong? What can they improve upon for next season?
We will continue our evaluations today with the only mainstay from the Blackhawks' third defensive pairing, with Nick Leddy stepping up to the plate.
The Good:
Leddy is frequently derided as a player that is only capable of carrying the puck and not much else, but his advanced metrics from last season certainly dispute that notion. His Corsi For percentage was at a career high 57.1% last season (meaning that the team took more shots with Leddy on the ice than they allowed), and even though his offensive numbers did take a bit of a dip from his career highs, he still had some good numbers to boast of in that category as well.
According to data compiled by Jen from Second City Hockey, Leddy not only led the Blackhawks' blue liners in zone entries per 60 minutes (a product of his penchant for skating up the ice to push the transition offense into gear), but he also had the second-lowest failure rate on those carry-ins to boot.
The Bad:
Even though Leddy did bring the puck into the zone a lot (and created a good number of scoring chances as a result), there were times where he would make the wrong choice on what to do once he crossed the blue line. He had trouble on occasion in putting shots on net in those situations, and when he would do that the puck would often bounce off the end boards and create an odd man rush going the other way thanks to Leddy being pinched in.
Factor that in, along with his playoff struggles and the fact that Joel Quenneville hesitates to use him in big situations, and it is fair to say that Leddy isn't quite as far along as some fans would hope that he would be.
Best Game of 2013-14:
Leddy had some solid games during the season (his performance in Game 2 against the Los Angeles Kings was great despite the bad outcome for the Blackhawks), and his play against the Toronto Maple Leafs on October 19 was definitely one of those. In the game Leddy had two assists, including a power play helper, as the Hawks won a 3-1 decision over the visiting Leafs.
Outlook for 2014-15:
With prospects like Stephen Johns and Klas Dahlbeck gunning for his job and the coaching staff looking for him to make the next step forward in his development, Leddy is going to have to really push himself hard in the coming year. His defense has been improving, but he still has work to do on his positioning, and his penchant for jumping ahead of the play to get the offense going can sometimes work against him.
Being able to balance that desire to carry the puck with the responsibility that he has as a blue liner is something that Leddy has been trying to do throughout his career, and next year will be a pivotal one in terms of what his future with the Blackhawks will entail.