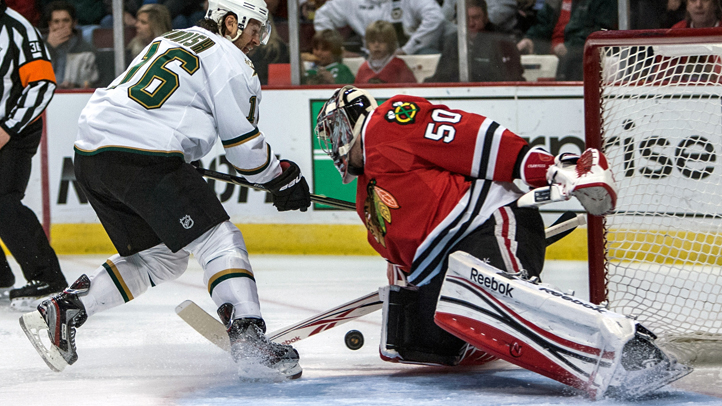 We knew it was coming.

As steady as Ray Emery had been the past week or two -- and that's all it had been, steady, because the Hawks defense in front of him made the job easier -- there was going to come a game when he just couldn't move side-to-side quick enough, or was just off, and Corey Crawford would have to come in and save the day; just as Emery had done when Crawford's game fell of the truck in Southern California.
And so here the Hawks are, as they've been a few times this season, not sure if they have one goalie, two goalies, or none.
Most likely, the plan of attack will be to let Crawford start Friday in Dallas. And then ride him until he loses, aside from a back-to-back next week that should see both goalies get a turn. That should be the plan, but we'll see if Coach Joel Quenneville has other ideas.
But looking at this long term with past performances weighing heavily on our mind, Crawford should be given one last chance, maybe two, to reclaim the form of last year, if it's even possible.

The limits are known with Emery. He's capable of being solid. He may even throw up a very good game or two. But at some point, he gets exposed. That slow movement can be torn apart in a playoff series by a team willing to stick to the plan.

We saw it last year in the playoffs when Emery was a Duck. He rolled into those playoffs on a hot streak, and then the Predators just made him whiff. If you choose Emery to lead you the rest of the way, at some point you're likely to end up back at Crawford again.
So it makes sense to see if Crawford can find some confidence and form, at the very least so that he's ready to step in when that Emery-falter comes. And we've seen Crawford be superb in the playoffs. We haven't seen Emery do that. The ceiling is still theoretically higher for Crow, even if he can't reach it.
But things with the Hawks this year have never been that simple, and neither will this be.