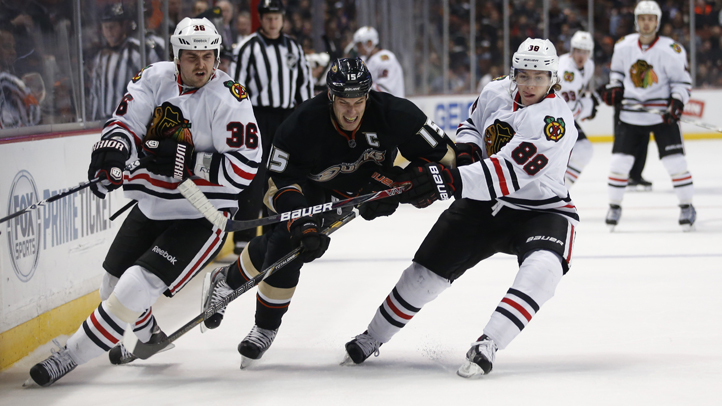 Ryan Getzlaf set up Bobby Ryan's tying goal and Teemu Selanne's tiebreaker 1:04 apart late in the third period, and the Anaheim Ducks rallied for a 4-2 victory over the Chicago Blackhawks on Wednesday night in a meeting of the NHL's top two teams.
Jonas Hiller stopped 22 shots, and Peter Holland and Sheldon Souray scored as the Ducks extended their franchise-record home winning streak to 13 games in dramatic fashion.
Anaheim (22-3-4) pulled within three points of Chicago atop the overall NHL standings by dealing the Blackhawks just their third regulation loss of the season.
Nick Leddy scored a power-play goal and captain Jonathan Toews scored an early short-handed goal for the Blackhawks (24-3-3), who lost in regulation after entering the third period with a lead for the first time in 19 games this season.
The largest crowd in Honda Center history was packed with boisterous fans of both teams for a prominent game in this lockout-shortened year. Two clubs with a points percentage above .800 had never met this late in an NHL season, and they lived up to their pedigrees in a fast-paced game showcasing their skill and tenacity.
Corey Crawford made 22 saves for the Blackhawks, who appeared to be headed for a 2-1 road victory until Anaheim scored three times in stunning fashion. Getzlaf first fed Ryan on a rush for the tying goal with 5:27 to play, and the Anaheim captain then set up the 42-year-old Selanne for his 670th career goal with 4:23 left.
Souray added an empty-net goal in the final minute for Anaheim, which has earned points in 12 straight games (9-0-3).
Chicago has earned 51 of a possible 60 points in its first 30 games this season, but Anaheim is responsible for a third of those missed points after this win and a 3-2 shootout victory at the United Center last month. The Ducks and Blackhawks finish their regular-season series March 29 in Chicago.
With a brilliant start to the year after missing last season's playoffs, Anaheim would be the talk of the NHL if not for Chicago's astonishing start of its own. Getzlaf, Selanne and the Ducks held the NHL record with a 16-game points streak to start the season in 2006-07 until Chicago obliterated it this year.
Both teams played this showdown without key offensive components. Right wing Corey Perry, who scored Anaheim's shootout winner in Chicago last month, sat out the final game of his four-game suspension for an illegal hit, while Blackhawks right wing Marian Hossa is sidelined with an upper-body injury from Monday's win at Colorado. Chicago's Patrick Sharp also missed his sixth game with an apparent shoulder injury.
Just 84 seconds into the first period, Holland alertly collected the rebound of Luca Sbisa's shot off the back boards and beat Crawford for his second goal in two games. Anaheim went on the power play shortly afterward, but Toews blocked Souray's big shot and outskated three Ducks for the rebound, beating Hiller with a sharp move for his 15th goal.
Leddy put the Blackhawks ahead on his 22nd birthday during a power play midway through the second period, firing a long slap shot through Viktor Stalberg's screen into a sliver of open net.
The Blackhawks appeared to extend their lead when Brandon Bollig scored in front of Hiller with 14:03 to play, but video review confirmed Bollig kicked the puck into the net with his right skate.
Anaheim finally broke through when Getzlaf brought the puck down the wing and fed it in front to Ryan, who banged it through Kyle Palmieri's screen for his ninth goal. Moments later, Selanne ended a nine-game goal drought with a slick shot in close.