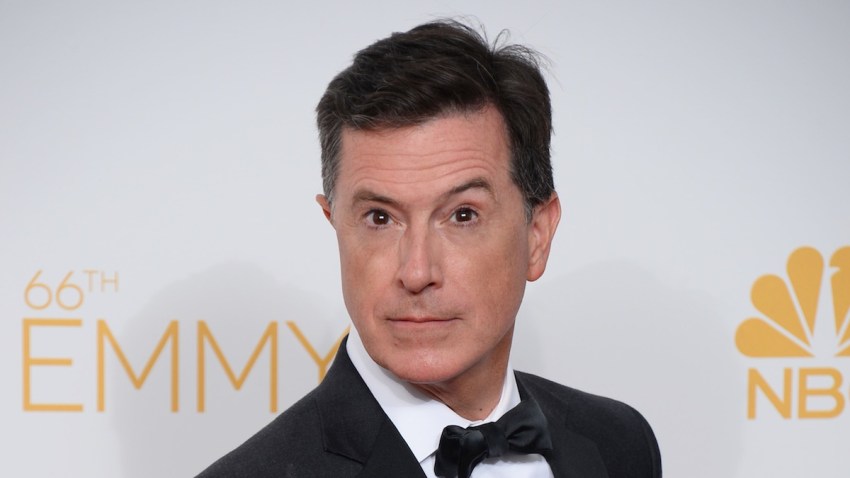 Stephen Colbert isn't afraid of billy goats anymore – not after the Chicago Cubs' wild card win on Wednesday.
In fact, the "Late Show" host, who lived in Chicago for 11 years, is so inspired by the Cubs, he went on a rant against goats Thursday night, even going as far as kicking one out of his studio.
"I'm not scared of you knuckle-kneed sheep wannabees anymore," he said. "Oh, that feels good. So many things I've wanted to say about your kind for years, but I've been too afraid because of the curse. Not anymore."
He then went on to insult goat cheese and soul patch beards.
"What are you going to do about it goats? Curse the Cubs again? I dare you," he said. "The Cubs are unstoppable."
The infamous Billy Goat curse dates back to Oct. 6, 1945, when Billy Goat Tavern owner Billy Sianis claimed to place a curse on the Cubs to prevent them from ever hosting another World Series at Wrigley Field.
But as far as Colbert is concerned, the curse is gone.
"Now it looks like the days of the curse are behind my Cubs," he said. "I think I can safely say without any fear of jinxing it they're going all the way. The Cubs are going to win the World Series."
He even made a 2015 Cubs World Series Championship T-shirt, featuring a goat.
But when one four-legged member of the audience didn't cheer on his beloved team, Colbert decided to kick it out.

"There is no possible way this decision can come back to haunt me, or the Cubs. After all the Cubs are clearly the greatest of all time (G.O.A.T.)," he said.
He then led the audience in a G.O.A.T. chant.
Whether Colbert's daring messages will ring true this season remains to be seen. The Chicago Cubs begin their battle against the St. Louis Cardinals at Busch Stadium Friday for the National League Division Series.