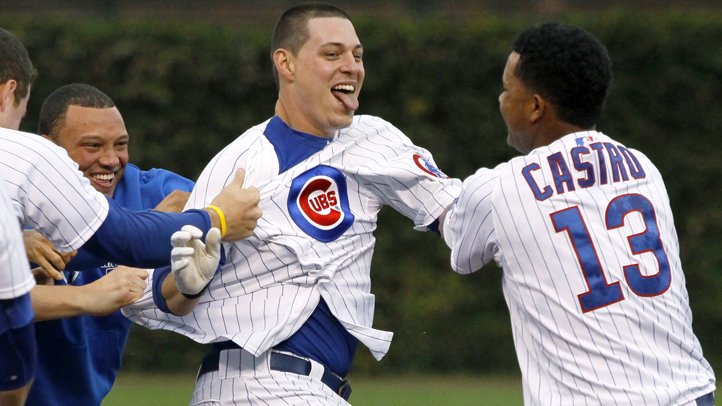 Bryan LaHair homered and hit a game-winning single in the ninth inning, and the Chicago Cubs beat Houston 5-4 Wednesday in the Astros' National League finale.
In the first series between 100-game losers in the major leagues since 1962, LaHair homered in the second and broke a 4-all tie in the ninth against Hector Ambriz (1-0).
Houston went 55-107 and set a club record for losses with one more than last year. The Astros became the first team with 106 or more losses in consecutive seasons since the 1964-65 New York Mets.
Houston finished its NL tenure with 3,999 regular-season wins and 4,134 losses with five ties. The Astros are moving to the AL West next season, creating three divisions of five teams in each league.
The Astros was 16-25 under interim manager Tony DeFrancesco, who took over after Brad Mills was fired on Aug. 18. Washington third base coach Bo Porter already has been hired as Houston's manager for next season.
The Cubs, who haven't won the World Series since 1908, went 61-101 for their most losses since dropping 103 games in 1966.
Carlos Marmol (3-3) pitched a scoreless ninth to earn the win.
Justin Maxwell hit a tying, three-run homer for Houston in the eighth off Shawn Camp.
Cubs starter Travis Wood allowed one run, three hits and five walks in 6 1-3 innings, giving up Carlos Corporan's RBI single in the first. Wood also chased Astros starter Edgar Gonzalez with a two-run single.
Gonzalez gave up four runs, five hits and four walks in 3 1-3 innings. Houston pitched 28 consecutive scoreless innings before LaHair's homer in the second.
Most Cubs' regulars were given the day off. The exception, Starlin Castro became the first player in franchise history to play shortstop in all 162 games, and the first major leaguer to do it since Jimmy Rollins in 2007. Castro's 195 consecutive games played is the longest active streak in the NL.
Copyright AP - Associated Press