Well, they biffed their last game against the Panther last time around.
There really is no excuse tonight. Not only are you getting the third worst team in the East, but you're getting them after they played last night in New York (and lost) and they're without their top scorer in Stephen Weiss. And yet every time I've sat here and said there's no excuse, the Hawks go out and lay an egg. By the time the puck drops tonight I'll be a nervous wreck, this is what this season has done to me.
The Panthers were stripped for parts and material at the trade deadline, as GM Dale Tallon (maybe the only man ever to be fired for not mailing something he wasn't supposed to be in charge of mailing while building a Cup winner) tore down what was left of the Panthers to start over.
Gone were...hang on, this will take a minute....Cory Stillman, Bryan Allen, Bryan McCabe, Dennis Wideman, Radek Dvorak, and Michael Frolik. All this with the aim of leaving the Cats with as much cap room and space for upcoming prospects when the season ends. You can consider that mission accomplished, as Florida will go into the summer with just nine players signed and $42 million in cap space. Tallon's lab will be bubbling over.
What are the dangers here? Goalie Tomas Vokoun. He flubbered the Hawks last time these teams met, and he did it once last year when the NHL made both these teams filter through the smoke and booze filled haze that is Helsinki, Finland (believe me, I have Finnish friends and you DO NOT want to try and hang with them on a Friday night). Vokoun played last night and was stellar, turning away 33 of 34 New York Ranger shots. But sadly his teammates couldn't dent twine once, and he took the loss. The Rangers didn't do a good job of blocking Vokoun's view, the Hawks must do so tonight.
Outside of that? Well, coach Peter DeBoer has gotten these guys to still play hard, and the more the Hawks let them hang around the more they're going to believe they can get something out of this. David Booth is still a pretty lethal sniper if left in space, and we know former Hawk Jack Skille is going to be revved for this one. But neither are game-breakers. The Panthers also don't come with much size, so the Hawks defensemen should be able to keep things clear and the forwards should be able to do the job battling for the puck in the Panthers zone. We stress should. That doesn't mean "will".
But the Hawks are too desperate for points, have too daunting a schedule coming up, and too rested to let this one slip. If they do, David Bowie is going to have to pencil a sequel to "Panic In Detroit" and move the subject 300 miles to the West.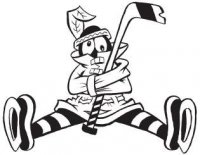 Sam Fels is the proprietor of The Committed Indian, an unofficial program for the Blackhawks. You may have seen him hocking the magazine outside the United Center at Gate 3. The program is also available for purchase online. Fels is a lifelong 'Hawks fan and he also writes for Second City Hockey .