NHL teams and agents have been told that they salary cap for next season will rise to $64 million.
That's a raise of five million from this year and it could lead to a very interesting summer for the Hawks, TSN in Canada is reporting.
With that number, the Hawks have 16 players signed, and almost $10 million in space to play with. Assuming that the Hawks restricted free agents come back at reasonable numbers, say $3.5 million total, the Hawks will have $6.5 million in space. They could easily add two quality players with that kind of space, and two players is all the Hawks are away from being a dominant force again.
It's not all roses though, because the Hawks won't be the only team benefitting from this added space. The Sharks will have $12 million free, though little room to add on the front line with Devin Setoguchi needing to be locked up (it's unlikely they'll let him walk) and everyone else locked in. They'll need pieces on the blue line, and the free-agent defensemen aren't all that exciting.
Detroit will have $17 million in space. They need to find a replacement for Brian Rafalski, and need to get younger at forward. But GM Ken Holland always comes up with something we never thought of, and that should scare everyone.
Vancouver will have 18 million in space, but a few pieces to re-sign. Kevin Bieksa and Christian Ehrhoff are unrestricted free agents, and could command north of 10-11 million combined. The entire bottom six is also unsigned, and they'll have to pick and choose what they want to keep and what they want to replace.
Los Angeles is another team to watch. They have $16 million in space, though $6 million of that or so is going to be eaten up by Drew Doughty's new deal. They have no other free agents who make you take notice, so look for them to upgrade on the open market. Considering their young defensive corps, if they add another premier forward, it's uh-oh time for everyone in the West.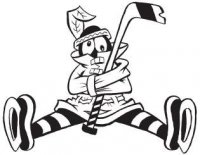 Sam Fels is the proprietor of The Committed Indian, an unofficial program for the Blackhawks. You may have seen him hocking the magazine outside the United Center at Gate 3. The program is also available for purchase online. Fels is a lifelong 'Hawks fan and he also writes for Second City Hockey .