Noted: Before we get to Erik Cole, the Hawks last night acquired the rights to defenseman Steve Montador, only the first name I mentioned as a free agent pickup when I started this last week. And yes, I've already pulled several muscles patting myself on the back. Anyway, if Montador can be signed before he hits the street festival tomorrow at 11am, the Hawks will have themselves a perfect third-pairing d-man who can hit, kill penalties, block shots, and provide a lot of snarl. Let's hope that happens.
Anyway, on to Erik Cole. With the loss of Troy Brouwer, the Hawks are severely lacking in a forward who can crash and bang and make the boards rattle. This is a pretty necessary element, especially in the springtime, when space is so hard to come by and you have to make your own. Making opposing defenders sigh and cringe is elemental to creating the turnovers and momentum you need to win playoff games. The Hawks will be looking for someone who can do that more consistently than Brouwer, and probably who can score more consistently as well (though Brouwer was never really given the chance to do so).
A name we've been hearing from a lot of fans is that of Carolina's Erik Cole. No question Cole is a heat-seeking missile on the ice. If you watch Cole play enough, you begin to wonder if he can actually stop on skates or simply has to use the boards and other players to do so and go the other direction. Whichever, it works. Cole hits everything in sight, and at 6-2, 205 he makes people notice when he does.
He can also score. He has four 20+ goal seasons to his name, including 26 last season. What's encouraging is his best year, the first out of the lockout, when he potted 30 came with the Canes playing a hair-on-fire brand of hockey, which the Hawks want to do (though with some controls in place). Some have speculated that Cole can't flourish without Eric Staal, but if you can play with Staal you can certainly play with Toews.
There are some concerns with Cole that are valid. The first one being health. He's had three seasons where he couldn't get to the post more than 60 times, and his style of play leads to bruises that do more than turn purple. At the age of 33 in November, one would have to wonder if Cole's combination of style and age would lead to his form going off a cliff. Power forwards tend to burn out rather than fade away.
All of that adds up to giving Cole only a few years on a deal, no more than three in fact. And he could probably get more than that from teams needing to reach the floor. Another problem is that Cole only spent one half season outside of Carolina in Edmonton, and he wasn't terribly good there. But then again, neither were the Oilers. Hard to judge. How badly Cole wants to stay in Raleigh will have to be weighed.
Cole provides most of what the Hawks lack right now on the wings, size and gumption. The question you have to ask is if Cole's going to make around $3.5 million, which he will, then why wouldn't you give Troy Brouwer $2.5? That ship has sailed though, and it needs to be replaced in the docks.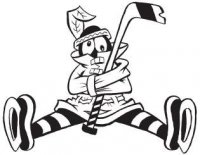 Sam Fels is the proprietor of The Committed Indian, an unofficial program for the Blackhawks. You may have seen him hocking the magazine outside the United Center at Gate 3. The program is also available for purchase online. Fels is a lifelong 'Hawks fan and he also writes for Second City Hockey .