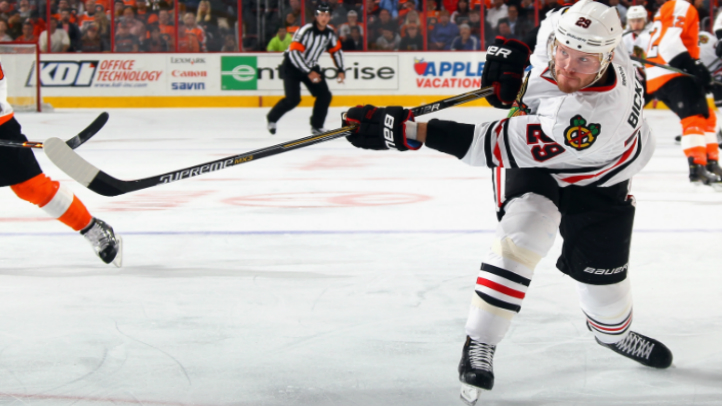 The Chicago Blackhawks cleared salary cap space by placing forward Viktor Tikhonov on waivers Saturday, and on Sunday they used that newfound space to recall forward Bryan Bickell from Rockford.
Bickell, who was sent to Rockford earlier this season after failing to register a point in seven games with the Blackhawks, has been on fire since heading to the AHL.
In 12 games with the IceHogs, the winger has seven goals and seven assists, and the Blackhawks will hope that he can provide a spark to an offense in desperate need of one.
Bickell's journey to the AHL was brought about as the team looked to clear salary cap space earlier in the year.
The move only saved the Blackhawks $950,000 in cap room, leaving a shade over $3 million still on their NHL cap, but it did give them the flexibility to carry two extra forwards during a stretch of the season that they were looking for more consistency from that group.
Now, Bickell is back in the NHL and will likely join the lineup on Sunday afternoon when they take on the Winnipeg Jets.
It's unclear which player he will skate in place of, but Andrew Desjardins and Brandon Mashinter are both definite possibilities.