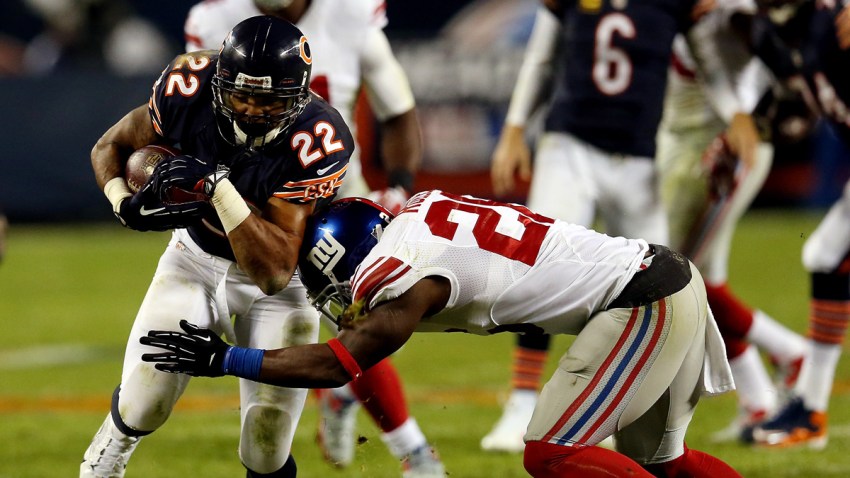 In the Chicago Bears' Week 9 victory over the Green Bay Packers at Lambeau Field, they used an intense ground game to not only get Matt Forte 125 yards on 24 carries, but also to eat up a huge chunk of the clock in the fourth quarter as they grabbed a 27-20 victory before a shocked Monday Night Football audience.
That running game seemingly vanished the next week against the Detroit Lions however. In that game, the Bears rushed for a combined 38 yards, and Forte was held to only 33 yards on 17 carries as the Bears lost and fell to 5-4 on the season.
The wretched performance by the Bears left many fans asking one question: what the devil happened here? Why did a running game that looked so potent against the Packers look so horrible against the Lions?
There are several reasons for this, and some of them aren't just one week issues; rather, they are long-term concerns that the Bears have got to address moving forward if they are actually going to compete for an NFC playoff spot.
The first and most obvious answer to this question is that the Bears don't have a valid second running option behind Forte. There is no change of pace back, no one to take goal line carries to pound the ball into the end zone, and no one to spell Forte effectively if he needs a break. In fact, if you look at who the Bears' leading rushers are this year, you'll see names in the second and third place slots on that list that should not be there. Alshon Jeffery is currently number two, with 94 yards on nine carries. Jay Cutler is third on the list, with 92 yards on 18 carries.
Josh McCown is number five on the list, with 53 yards on only five carries, for an average of 10.6 yards per carry. The reason we emphasize his statistics is to point out the complete trainwreck that the number four man on the list has been this season. That player is Michael Bush, and on 32 carries, he has 69 yards, good for a 2.2 yards per carry average. His longest carry on the season has been for NINE yards.
Bush's failures weren't the only thing holding the Bears back last week. The team's offensive line also had an awful game against a Lions' defensive line that is arguably the best in the league in terms of causing havoc for opposing offenses. Matt Slauson in particular looked like a shell of himself in the game, and that was especially troubling because of his dominant performance against the Packers a week prior to that.
Kyle Long and Jordan Mills also looked overmatched all day long in the trenches, and as a result the Lions got a ton of penetration up the middle to prevent Forte from finding any open running lanes. Those breakdowns ultimately led to the Bears abandoning the run through big chunks of the game, and they had to rely almost exclusively on their passing game.
Normally, that wouldn't be a problem for a Bears squad that is loaded with talent through the air, but with Cutler out and McCown stepping in this week, the Bears have got to do a better job of keeping things as balanced as possible on offense. If they are forced to give up on the run and pass exclusively, that is a huge bullet that they are leaving out of the chamber against an opponent that isn't going to be able to put many points up on the board.
Getting Bush back on track would be a big step in the right direction, but failing that, Slauson and company have got to revert back to the form they had shown in Week 9, because if they have another performance like they did in Week 10, then it's going to be a long afternoon for Bears fans.