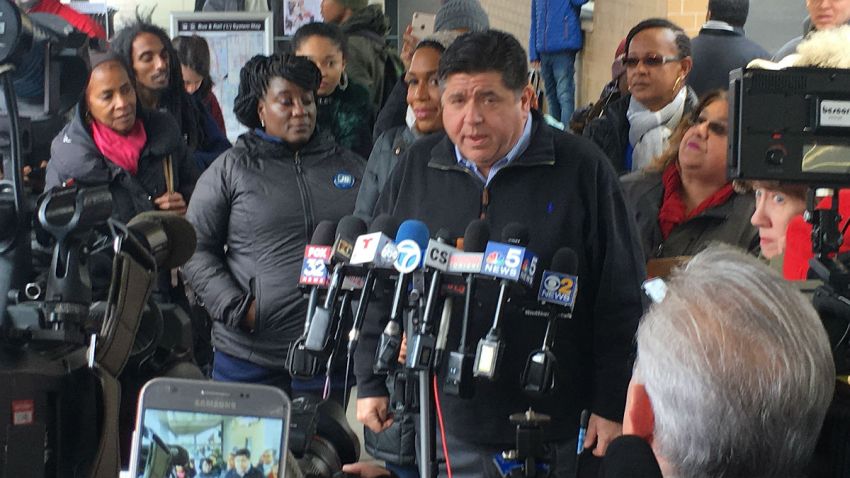 Democrats were dominating in Illinois on Tuesday, winning all statewide offices and flipping two Republican-held congressional seats, including one that's been in GOP hands for decades.
Billionaire businessman J.B. Pritzker defeated Republican Gov. Bruce Rauner, who conceded the race less than an hour after polls closed, while Democratic state Sen. Kwame Raoul topped Republican attorney Erika Harold for the open attorney general seat.
Republican Rep. Peter Roskam of Wheaton lost his bid for a seventh term to Democrat Sean Casten in a suburban Chicago district, while Democrat Lauren Underwood defeated GOP Rep. Randy Hultgren in another Chicago-area district the party had targeted in its effort to win House control.
Other Democrats who won re-election statewide: Comptroller Susana Mendoza, Secretary of State Jesse White and Treasurer Michael Frerichs.
The election saw higher-than-normal turnout, as Democrats pushed back against President Donald Trump and his policies and Republicans tried to hold on to some power in the left-leaning state.
Here's a look:
CONGRESS
Casten, a scientist and businessman from Downers Grove, defeated Roskam, arguing that he was too conservative and too cozy with the president to continue representing Illinois' 6th District, which supported Hillary Clinton over Trump in 2016. He criticized Roskam for his long record of opposing abortion and for helping draft the GOP tax plan, which Casten said hurts the district's residents. Roskam warned Casten wants to raise taxes and criticized the first-time candidate for name-calling and "embracing the politics of ridicule," saying he uses the same kind of divisive talk — and tweets — that has turned the district's voters against Trump.
Underwood, a 32-year-old African-American nurse from Naperville, topped Hultgren to become the first woman and first minority to win the congressional seat once held by GOP House Speaker Dennis Hastert. Underwood said she was motivated to run for her first political office after Hultgren supported health care legislation that would've made coverage of pre-existing conditions more expensive. She also criticized him for not being accessible to district residents. Hultgren argued voters knew his track record of getting things done for the district, a rural and suburban area north and west of Chicago that backed Trump by 4 points over Clinton.
In central Illinois, three-term Republican Rep. Rodney Davis of Taylorville had a slight lead over Springfield Democrat Betsy Dirksen Londrigan. Londrigan also made health care a central focus of her campaign, recounting her son's life-threatening illness and saying her family could have faced bankruptcy if they hadn't had health insurance. She's criticized Davis for supporting legislation to repeal and replace the Affordable Care Act, then joining a White House celebration of the House vote. Davis argued Londrigan is too extreme for the 13th District. Vice President Mike Pence headlined a fundraiser for Davis in October, and Trump's daughter, Ivanka Trump, campaigned with him.
Republican Rep. Mike Bost of Murphysboro was ahead of St. Clair County State's Attorney Brendan Kelly of Swansea in southern Illinois' 12th District. The once reliably Democratic district strongly backed Trump in 2016, and the president campaigned for Bost last month. Trump also was in the district in August, where he touted his trade policies at U.S. Steel in Granite City. Bost is a former state representative first elected to the House in 2014. Both he and Kelly are veterans — Kelly served in the Navy and Bost in the Marines. Green Party nominee Randy Auxier of Murphysboro also is running.
ATTORNEY GENERAL
Raoul, who was appointed to the state Senate in 2004 to replace the U.S. Senate-bound Barack Obama, pledged to fight Trump and his policies as attorney general.
"We reject the hate that has come from Donald Trump," he told supporters at a victory party in Chicago after winning the seat vacated by Democrat Lisa Madigan.
Raoul, 54, boasts a variety of legal experiences, including as an assistant Cook County state's attorney, and he criticized Harold's lack of experience as a prosecutor.
Harold, an Urbana lawyer who used scholarship winnings as Miss America 2003 to get a degree from Harvard Law School, is a civil litigator who dismissed Raoul's complaints and posits herself as an able administrator willing to take on public corruption.
Harold wished Raoul well in her concession speech.
"We need an attorney general who will be able to take the politics out of the office and to be able to bring us all together," she told her supporters.
Raoul has built a record in the Legislature of fighting illegal guns and restructuring workers' compensation laws to curb abuses.
He said the attorney general's role has expanded in modern times to include defending taxpayers against federal overreach on issues such as the Muslim travel ban and keeping immigrant families together. He pledged to expand the post's vigilance in fighting online sexual predators and fighting gun violence with better trauma treatment of victims who research shows sometimes become perpetrators.
Libertarian Bubba Harsy of DuQuoin also was on the ballot.
___
LEGISLATURE
Democrats, who have controlled both houses of the General Assembly for 30 of the past 42 years, were looking to expand their majorities after a rare and minor setback in 2016.
The biggest question for the majority party was whether it will regain a 71-seat supermajority in the House, which would give Democrats enough votes to override any veto by the governor. Senate Democrats have enjoyed a supermajority of 36 or more seats since 2007.
The biggest issue for Republicans, struggling to maintain the six seats, including four in the House, they picked off in 2016, is what they don't have: Gov. Bruce Rauner's money. The wealthy former private-equity investor and his top backers poured more than $40 million into legislative races in 2016. But Rauner focused more this election on his own bid for re-election.
Rauner produced $16 million to help GOP candidates this year, no small change. But it's a fraction of his contribution two years ago and is offset by more than $22 million in Democratic party-building contributions from Pritzker.
Copyright AP - Associated Press