David Wallach and his son, Johnny, were living a dream come true watching the Cubs, their favorite team, play in a World Series game.
Sitting in the bleachers before Game 1 in Cleveland on Tuesday, things couldn't have started better. Cubs outfielder Dexter Fowler threw a ball into the stands during batting practice. The ball fell into the hands of an Indians fan who then gave it to Johnny, who was celebrating his upcoming 8th birthday.
"There was no way to describe how amazing it was," said David Wallach, of Northfield. "It was everything you could ever dream of. Everything I've ever dreamed of was coming true."
[NATL] Top Sports Photos: Washington Nationals Win World Series, and More
The father-son duo was stunned by the history they were witnessing — their beloved team in a World Series for the first time in 71 years. [[397242041, C]]
"It was really cool," Wallach said. "The game started, it was electric and it was insane and we were having a blast."
But things quickly took a turn for the worse – just as the Indians scored their first home run of the game.
Indians fans were quick to celebrate, and one of them elbowed Johnny in the head while cheering, knocking the young boy out for about 30 seconds.
"He spun around and I caught him, he was crying hysterically," Wallach said. "That's when things kind of went off the rails. Things went from being a dream to a nightmare so quickly."
With no help in sight, David Wallach took his son out of the stands before flagging down a police officer. The officer started bringing them into a tunnel when Johnny's knees buckled and the young boy could no longer walk.
"Fans were heckling him," Wallach said. "Here I am on the ground with my 7-year-old son and they're shouting, 'Cubs suck.'"
Eventually, paramedics arrived and decided Johnny needed to be transported to a hospital for treatment.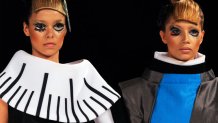 Meanwhile, Wallach's wife was calling the field to see if they could retrieve the family's belongings, which they left at their seats as they searched for help.
No answer, they said.
"There was no one that ever showed up to help us," Wallach said.
When they were finally discharged from the hospital at 1 a.m. Wednesday, Wallach said, he and his son were stranded, unsure of where they were or how to get back to their car. And still, no word from officials at the field.
"It was scary and confusing and awful and I felt like we were just hung out to dry," he said. "You don't see that in Chicago. I would never expect that in Chicago in a million years."
Johnny was left with a concussion and a birthday gift wasted on a World Series he didn't even get to see. [[393634811, C]]
"The best thing about it is, he said, 'Dad I still had a great time and I forgive the man who hit me,'" Wallach said. "From a little boy, that's a great lesson for all of us."
Wallach said he was later contacted by StubHub, which agreed to refund 50 percent of their ticket purchase. He also said the Cubs contacted the family and offered them support and sent Johnny a gift.
"I think I'm just used to the way Chicago fans act," Wallach said. "Just kind of shocking."
A spokesperson for the Indians did later call the family to apologize, Wallach said, and offered them tickets to a game in Cleveland.