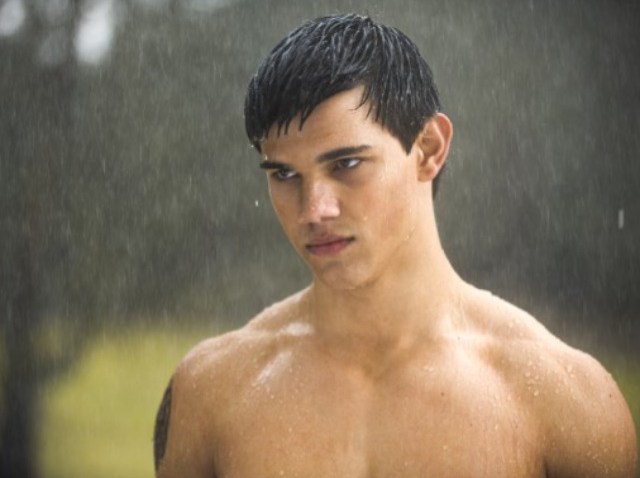 The nagging question of how ab-sessed Taylor Lautner's "Stretch Armstrong" action character is going to be is finally being answered.

Screenwriter Nick Stoller says the "Twilight" stud will not even be given a shirt when he plays the action hero part based on the famously ripped -- and shirtless -- Hasbro toy.

"Wardrobe is actually not going to supply him with a shirt," Stoller jokes with PopcornBiz. "There's not going to be a shirt option."

As a bonus, Stoller even says that Lautner will be even more ripped in the movie thanks to the magic of special effects.

"Most of the visual effects money is going into adding even more abs," he laughs. "It's actually going to be a little gross."

Okay, perhaps slight exaggerations there. But you get the idea that we'll see plenty of Lautner shirtless in the movie due to shoot in the spring for a 2012 release.

Stoller is coming off the giddy success of writing and directing "Get Him to the Greek" which comes out on Blu-Ray and DVD on Sept. 28. He is focusing on other projects such as "Stretch," which will be directed by Rob Letterman.

As far as a story to go along with the toy, Stoller says the filmmakers have "created a whole mythology" which will have a "light tone."

"It's' definitely going to be more 'Iron Man' than 'Dark Knight,' " he says. "It's a little bit outside my genre. It's not really a comedy. It's an action super hero movie."

He recently met with Lautner to discuss the part, but never got to see the famous abs during the meeting.

"I was trying to figure out how I could trick him into showing me (the six-pack)," Stoller says. "I was like, 'What kind of shirt is that, do you mind if I try it on?"

"He didn't bite."