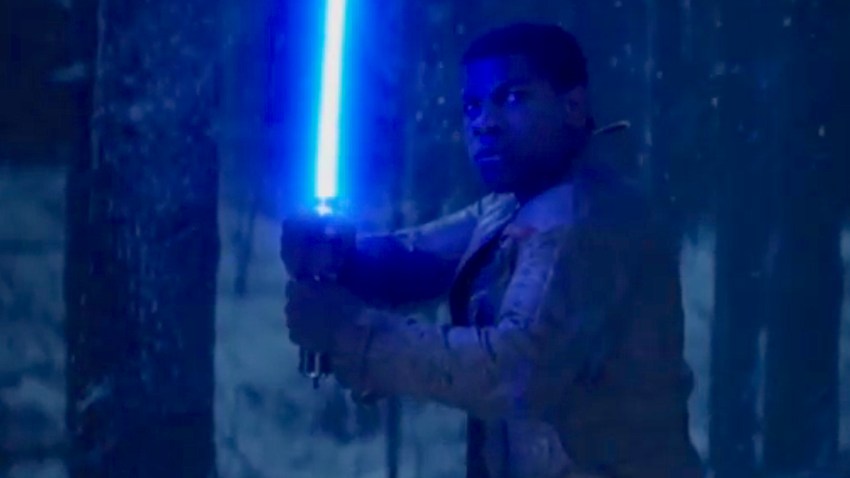 "Star Wars" fans received an amazing surprise Thursday.
"Star Wars: The Force Awakens" dropped a new teaser on Instagram, taking advantage of the picture-sharing platform's new landscape feature, and in the short clip John Boyega's character, Finn, is seen wielding a blue lightsaber against Adam Driver's character, Kylo Ren, who is holding a red lightsaber.
This scene, which has been featured in a previous teaser trailer, has been much discussed–even Stephen Colbert tackled the topic!–because Ren's saber has a new cross-design, or as Colbert described it, "a lightsaber with two mini lightsabers on it. It's a ménage à sabres."
Finn, on the other hand, holds the classic blue single lightsaber we've all come to know and love. This is the first time fans have seen Finn in action, as in all previous looks at the highly anticipated film he has been seen in a Stormtrooper costume. Some fans speculate that Finn's lightsaber could be Luke Skywalker's lost weapon.
NEWS: Harrison Ford surprises "Star Wars" fans at D23 Expo
"The movie explains the origins of the mask and where it's from, but the design was meant to be a nod to the Vader mask," director J.J. Abrams told Entertainment Weekly of Driver's character. "[Ren] is well aware of what's come before, and that's very much a part of the story of the film."
The director also confirmed rumors that Ren's lightsaber "is something that he built himself, and is as dangerous and as fierce and as ragged as the character."
Abrams also dished another spoiler regarding the villain's origins. "He is a character who came to the name Kylo Ren when he joined a group called the Knights of Ren."
Although we haven't seen an official full-length trailer just yet, one should be just around the corner as "The Force Awakens" hits theaters on Dec. 18.
Copyright E! Online